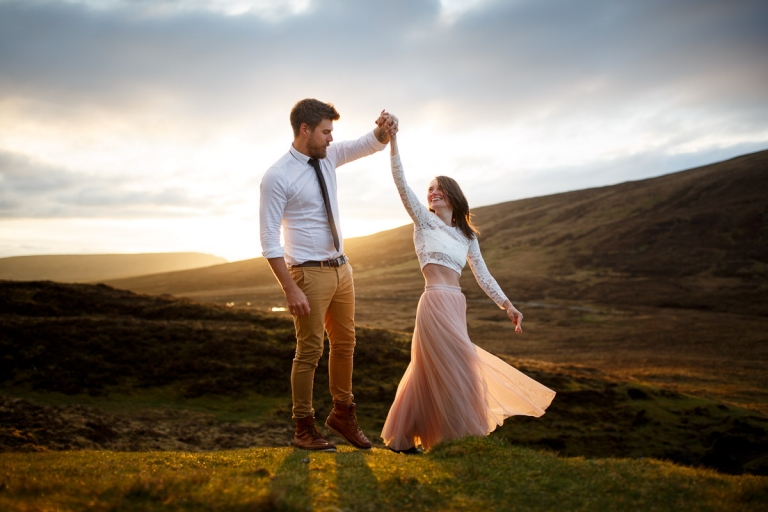 Today on the blog are three of my favourite people in this Isle of Skye Elopement. This is the beautiful John and Soph — a deeply personal, vow renewal ceremony at the Quiraing, Isle of Skye. The ceremony was crafted and performed by my husband Martin (accredited Humanist UK celebrant, aka MAD Ceremonies).
Soph and John have been married for about 6 years. For their first wedding they had a civil ceremony. They had an amazing day but have always felt that the ceremony itself was lacking personality. They also had a not-so-great experience with their registrars who, on the day, did not bring the goodvibes everyone's wedding deserves. So, they asked Martin to help them create something special — a ceremony done their way, and just for themselves. A chance to refocus on what's important to them, in a place important to them. And I was honored that they asked me to document it!
The 6 of us (4 humans and 2 dogs) traveled up north and stayed in a classic, white, Skye cottage overlooking the sea. The ceremony was going to be a intimate affair, just the two of them with no guests, so we were flexible on timings. We carefully monitored the changeable Scottish weather, and light, to pick the perfect time for the ceremony. The forecast predicted that our best bet was Monday night. We went for it, and got SO lucky!
At the cottage, John and Soph separated to write out their vows and get dressed. It was the most calm and peaceful preparation I have witnessed. Elvis (their French Bulldog) watched in puzzlement, knowing that something significant was going on!
John and Martin drove up to the Quiraing together, and Soph and I followed later, so that they could see each other for the first time at their chosen ceremony spot.
Soph arrived and hiked up the hill to discover John waiting with his guitar. As a surprise he sang their favourite Bon Iver song, and as emotions grew Soph joined in :) Witnessing two of my friends have such a deeply personal and moving ceremony, performed by my magical husband, was such an honour.
Martin is going to write a blog post about the ceremony very soon, so I'll save the details for him to share. But I will say that it culminated in a magnificent handfasting, magically timed JUST as the sun came out. We all felt it deeply and at the end of ceremony John said 'THAT'S how it should feel!' — a massive testament to Martin!
After the ceremony, John gave Soph a present, a super soft and snuggly blanket. The perfect gift as, despite the sunshine, it was actually pretty cold up there! And then, while the light was still doing wonderful things, John, Soph and I climbed further up the hill to make some portraits. I hope you enjoy them!
Couples who want to try something different, will always have my heart. And Humanist ceremonies repeatedly resonate with me so strongly, as their content is so heartfelt and unique to the couple. This will be one to remember — 3 of my favourite people, breathtaking surroundings, and moments I will never forget.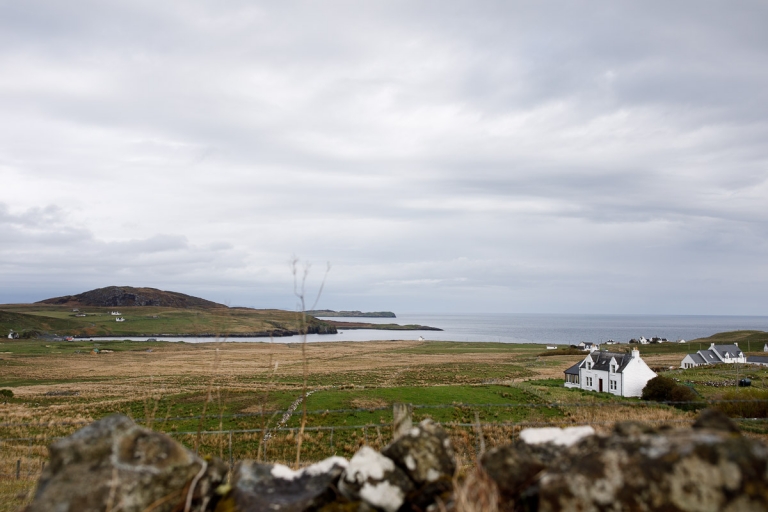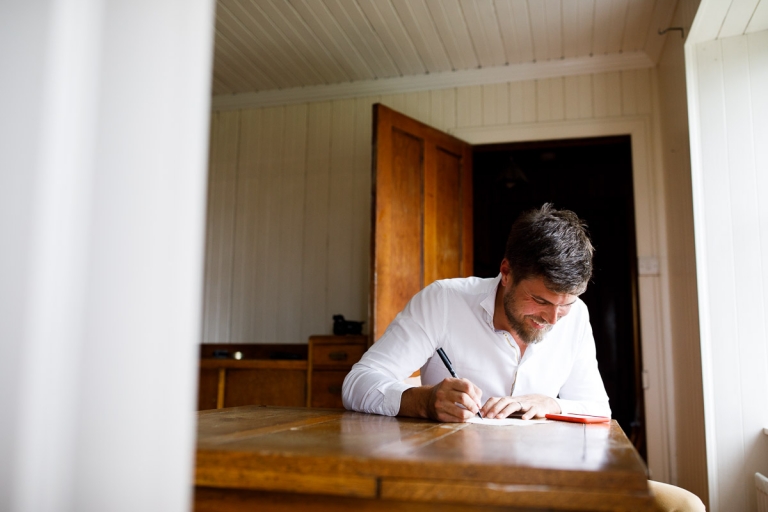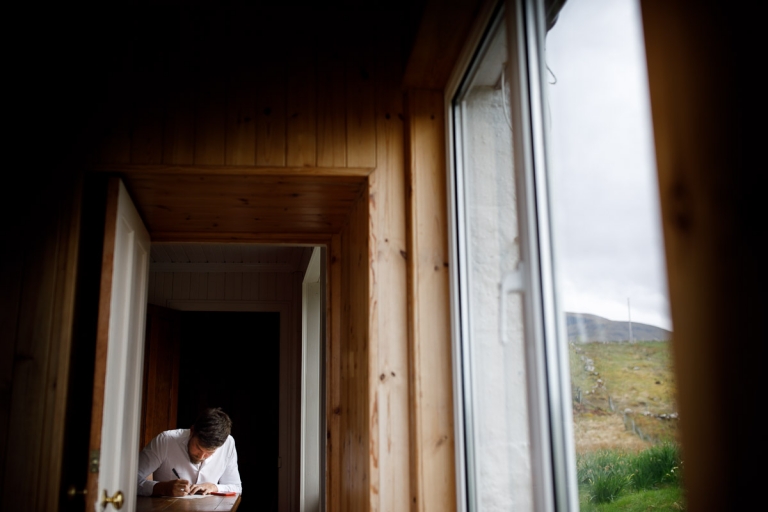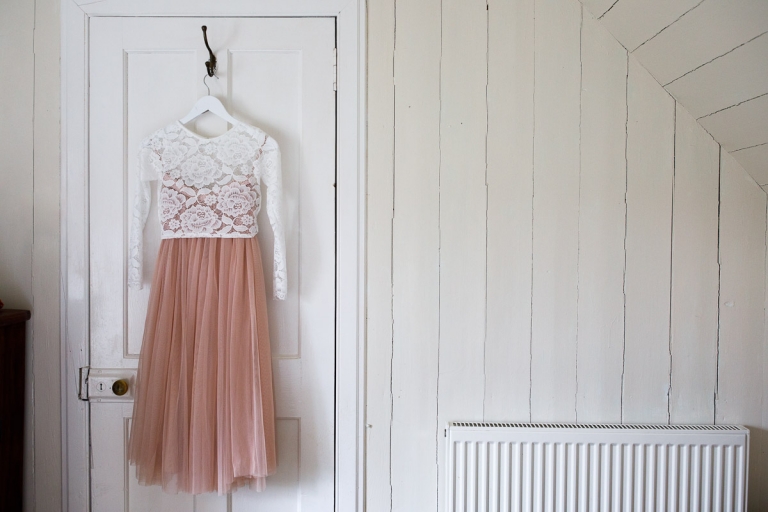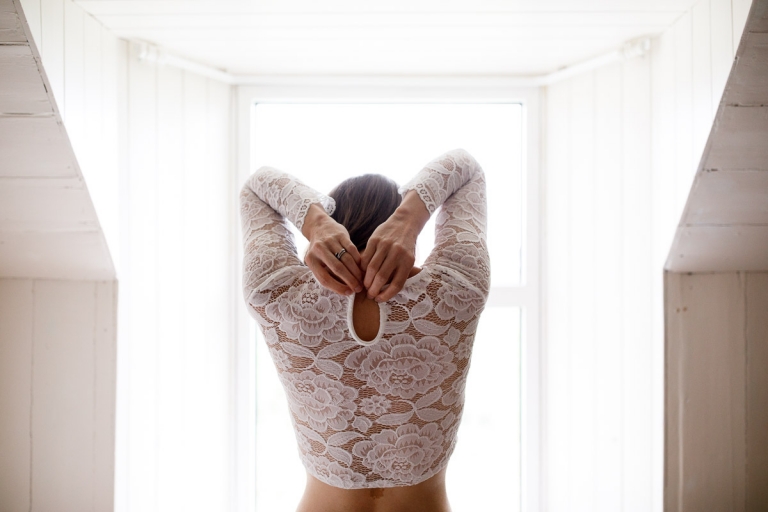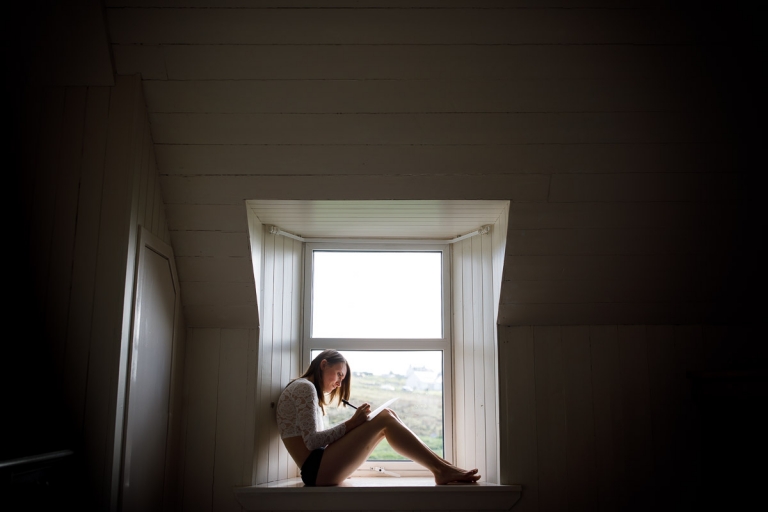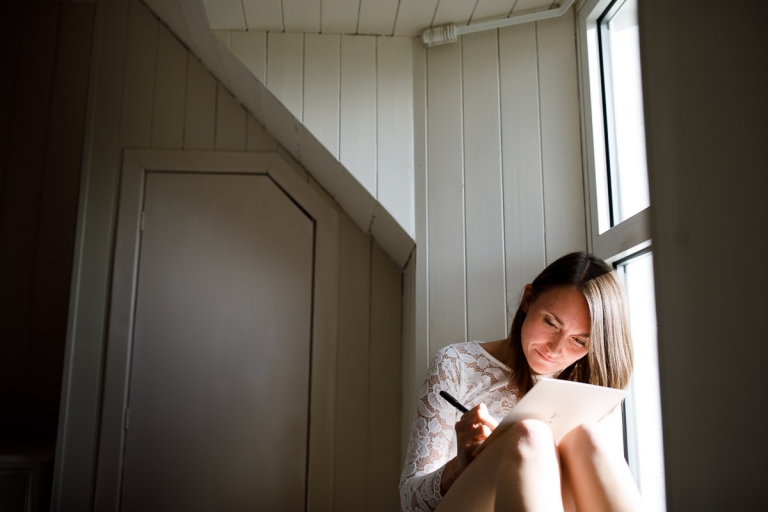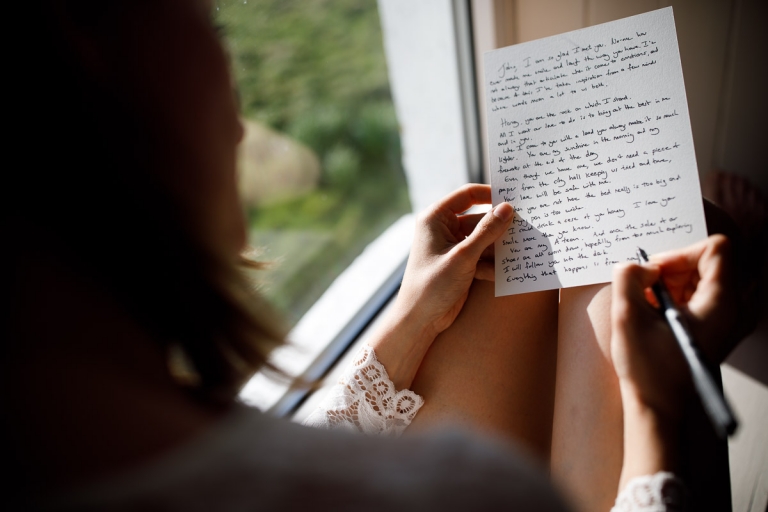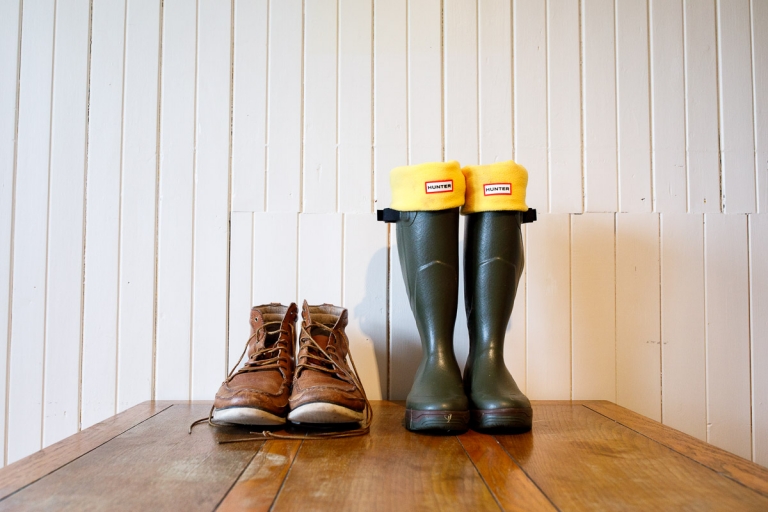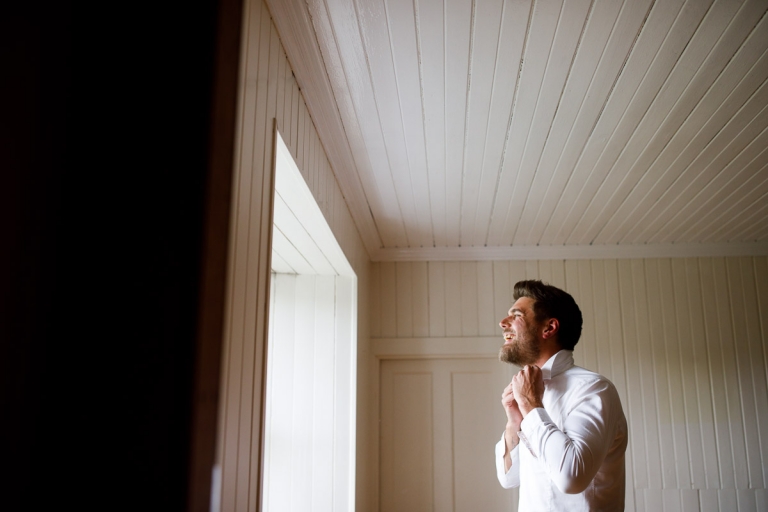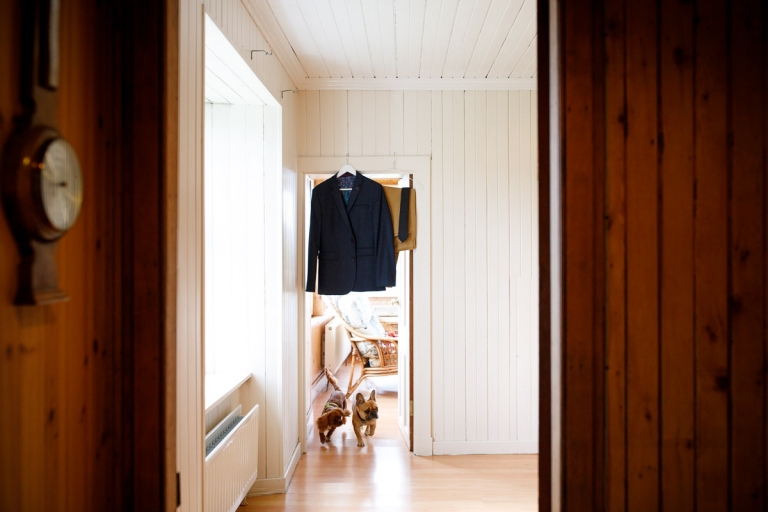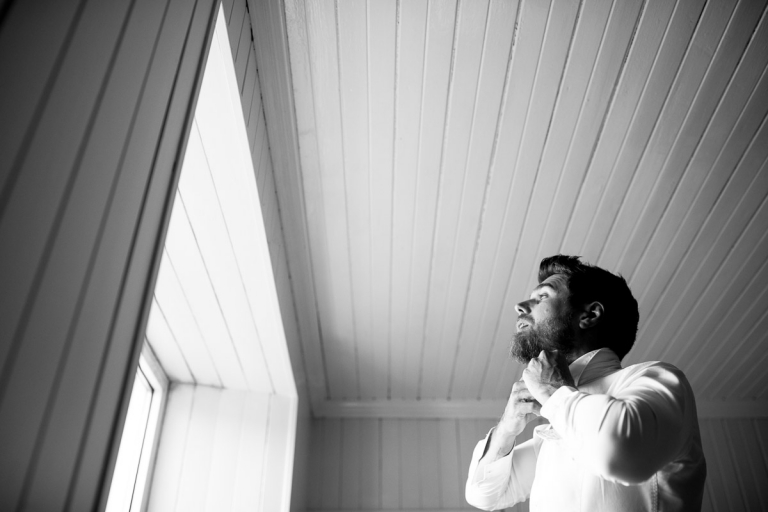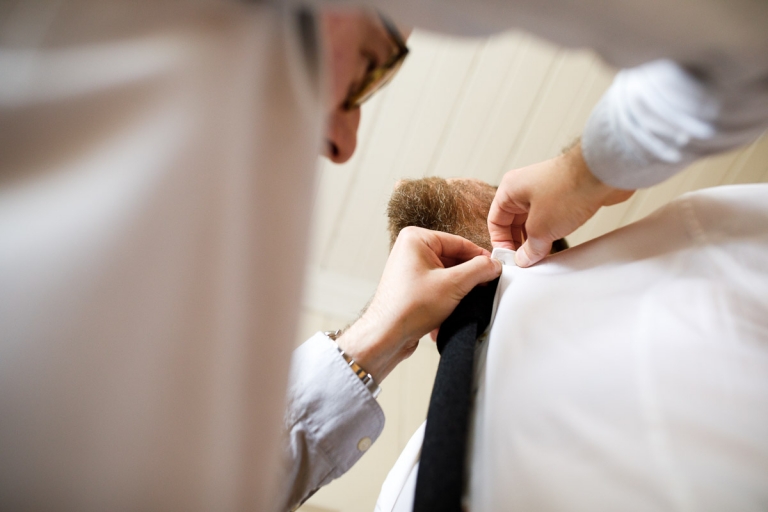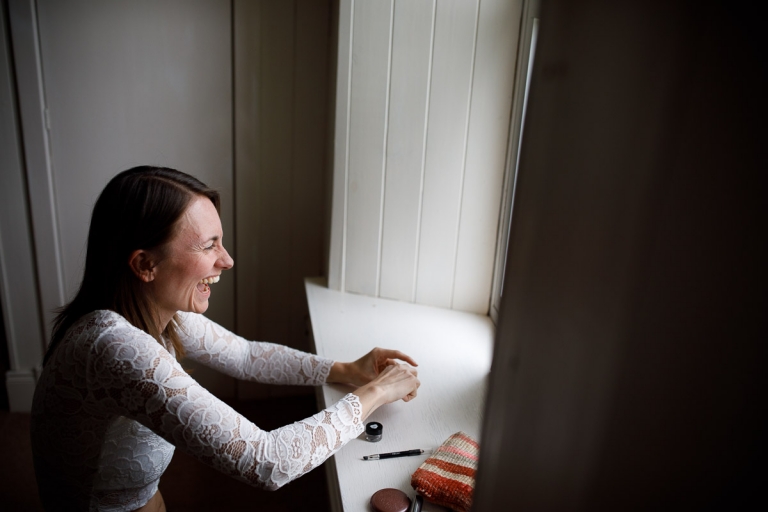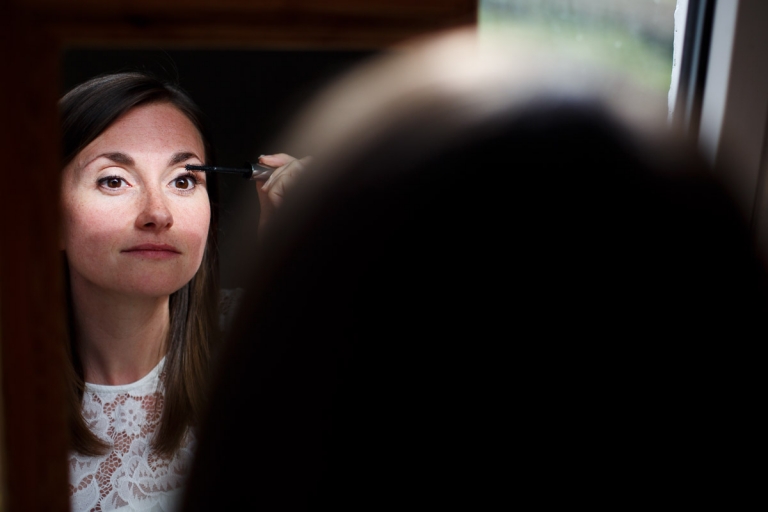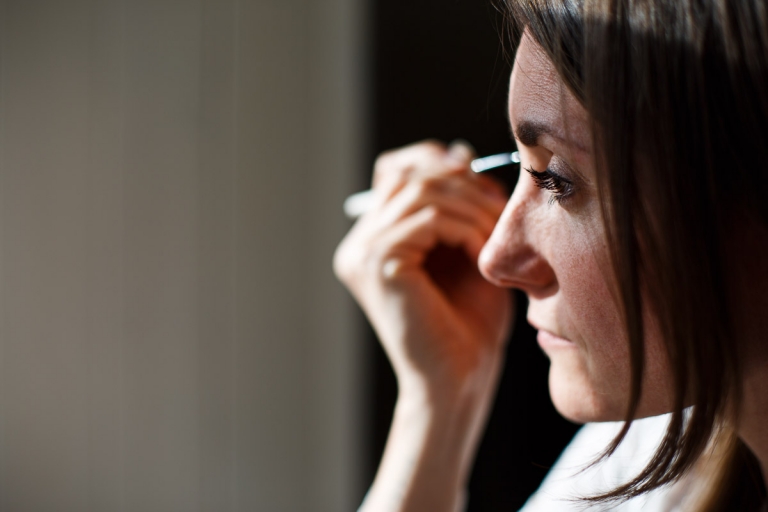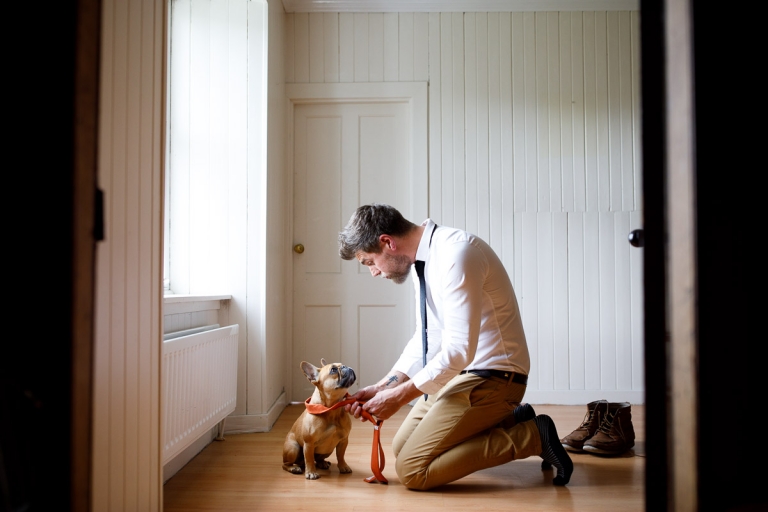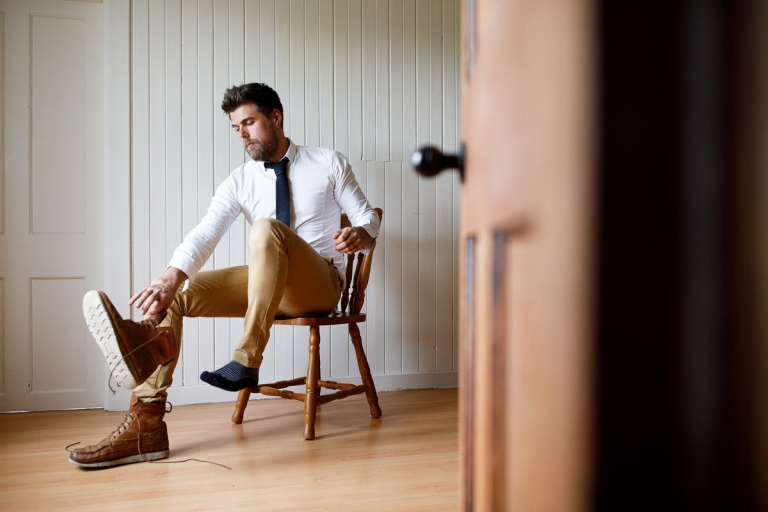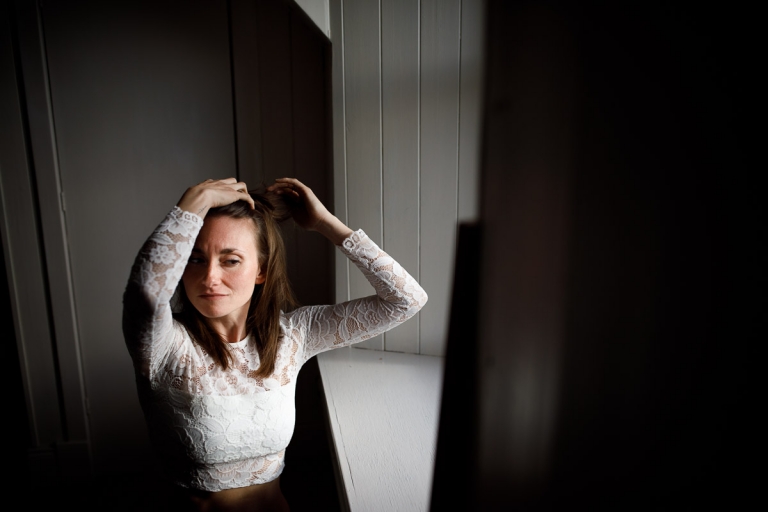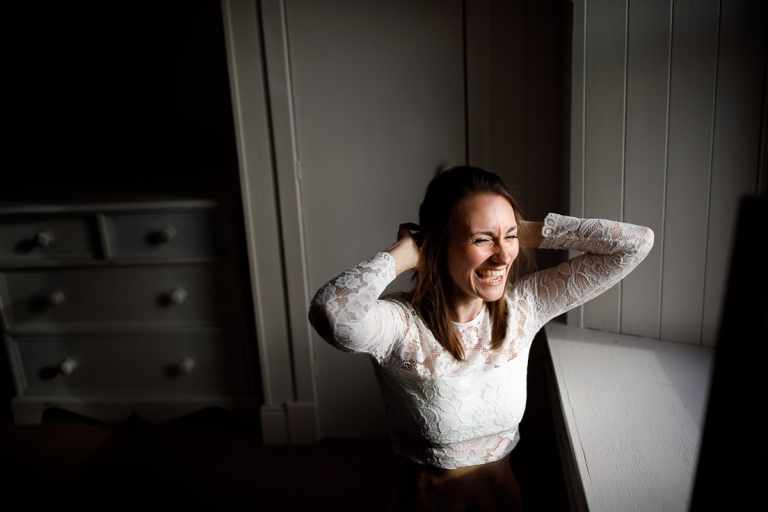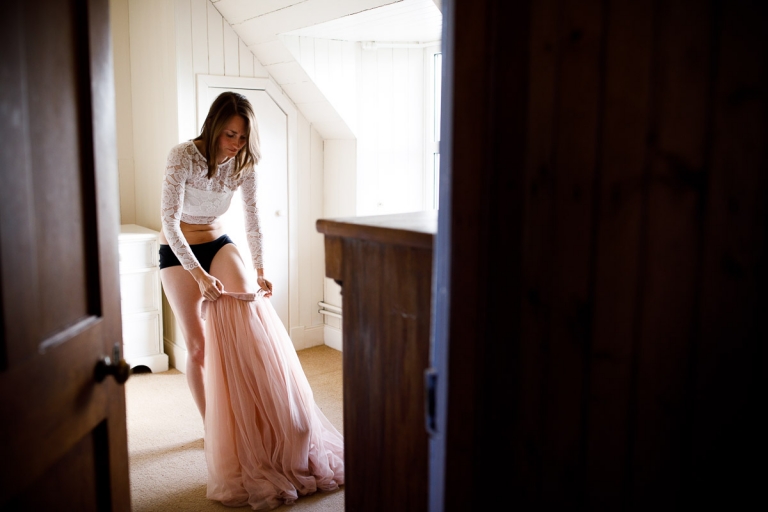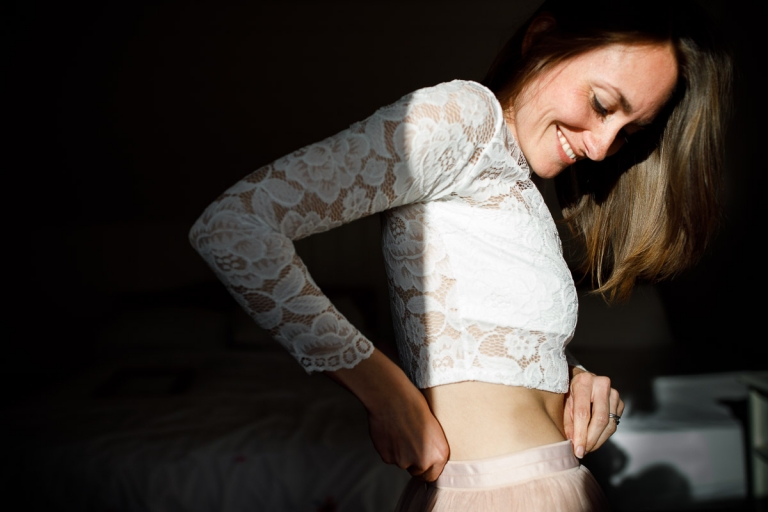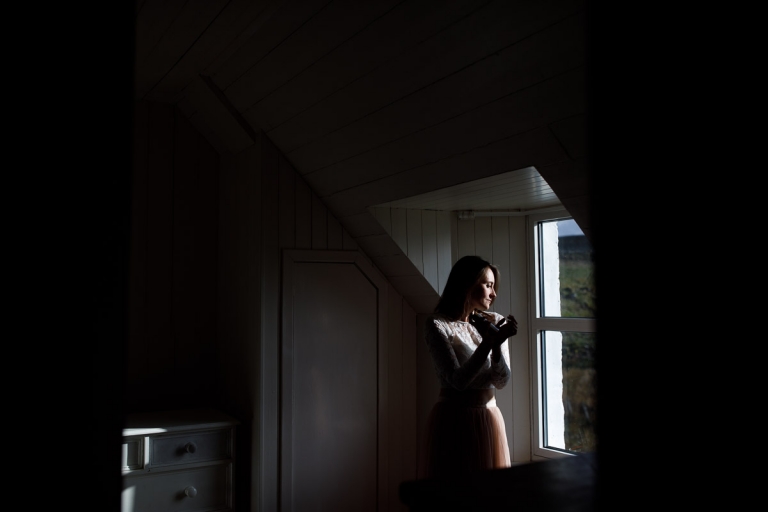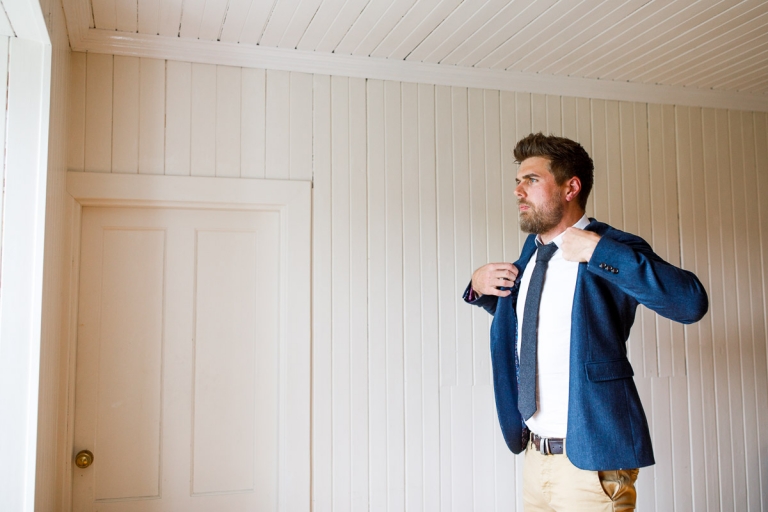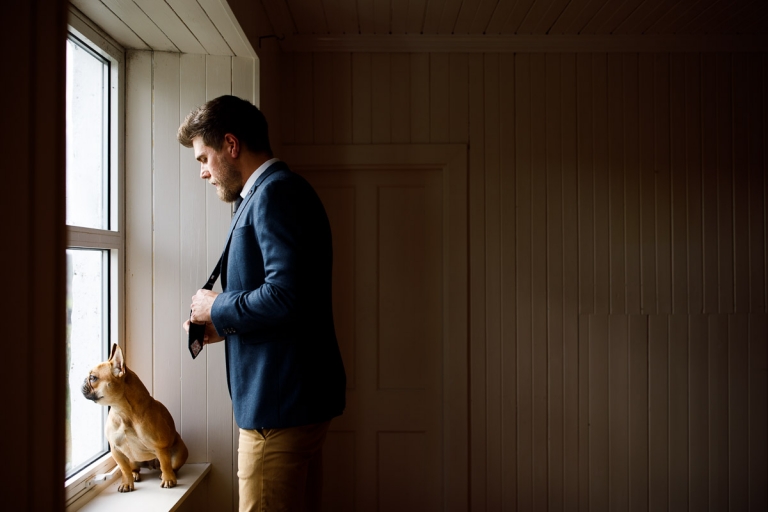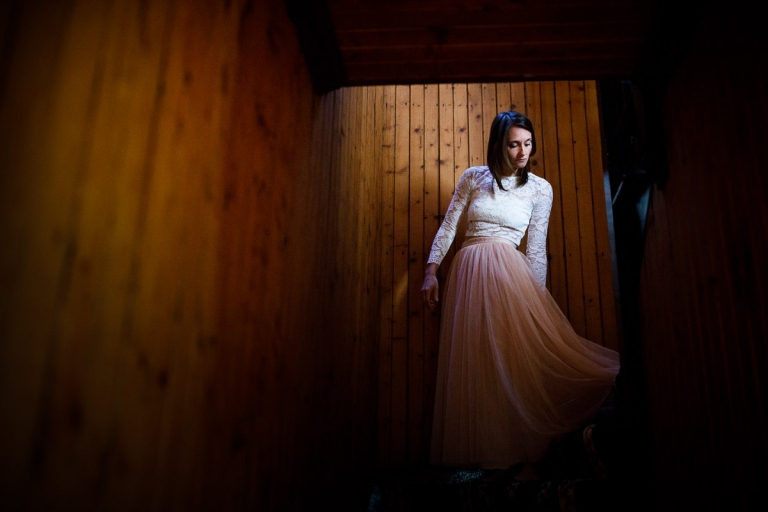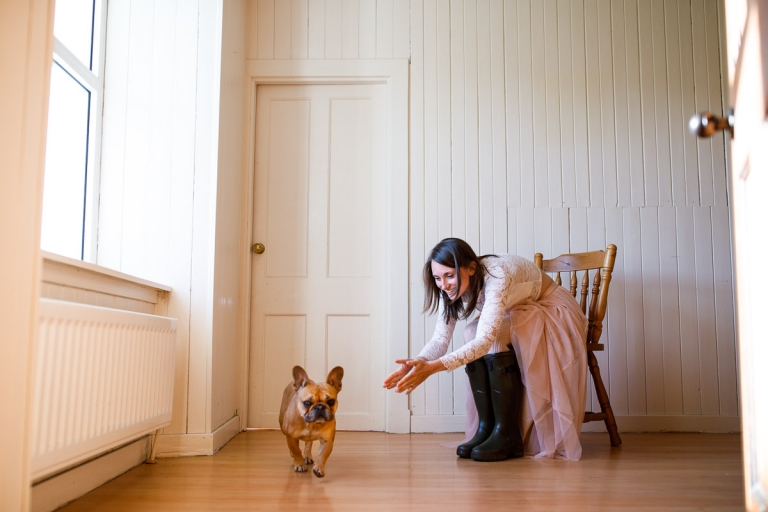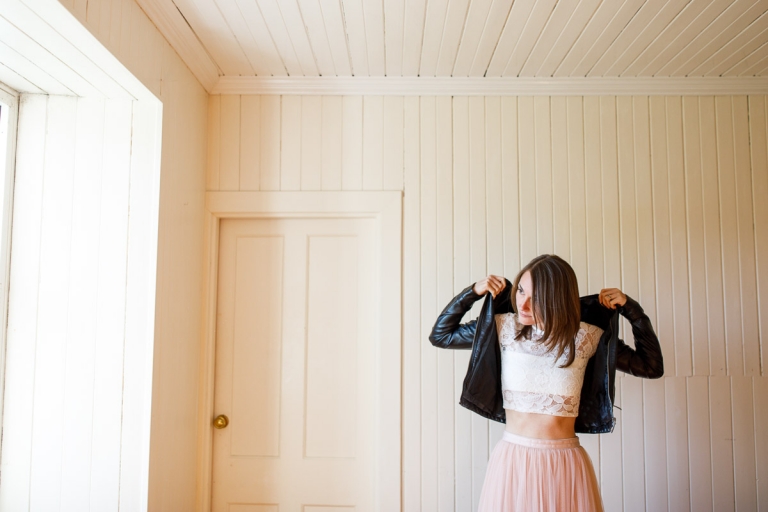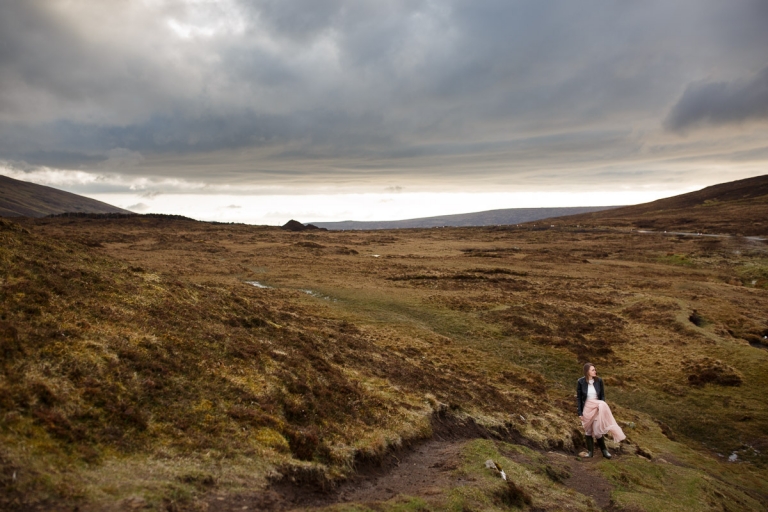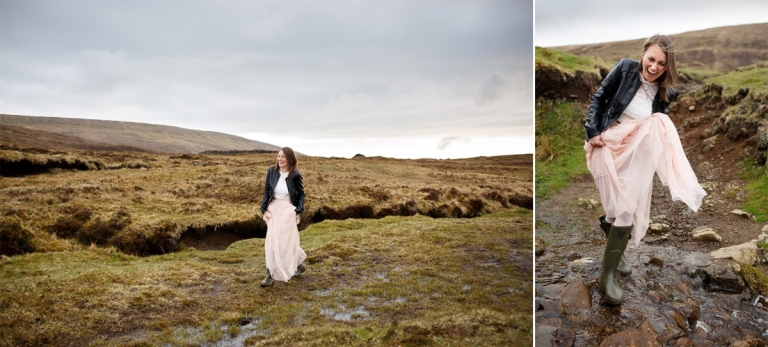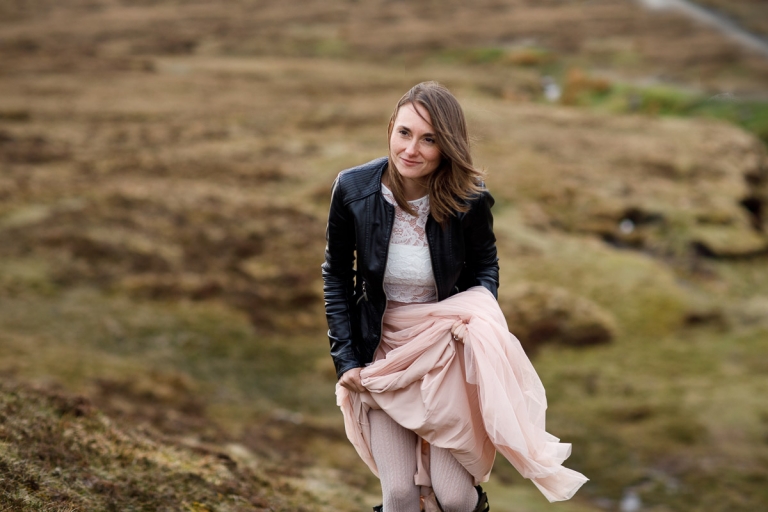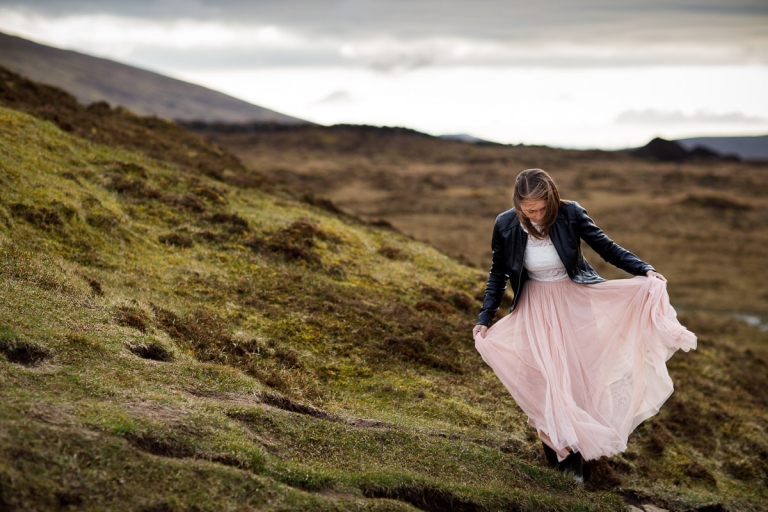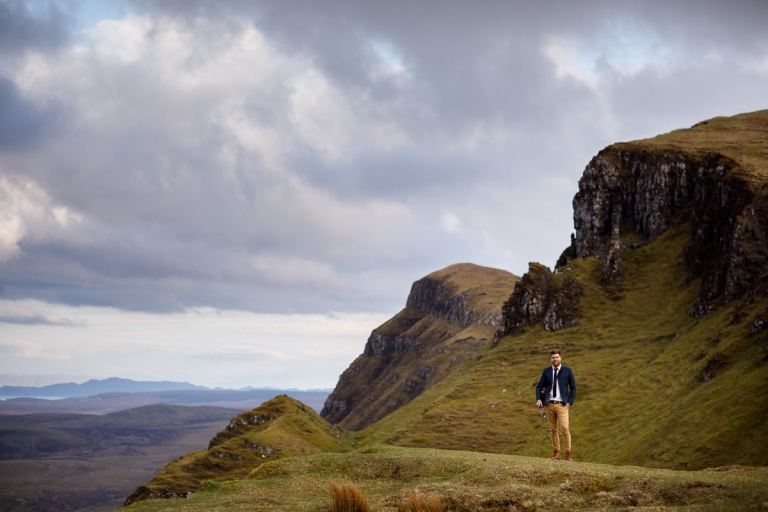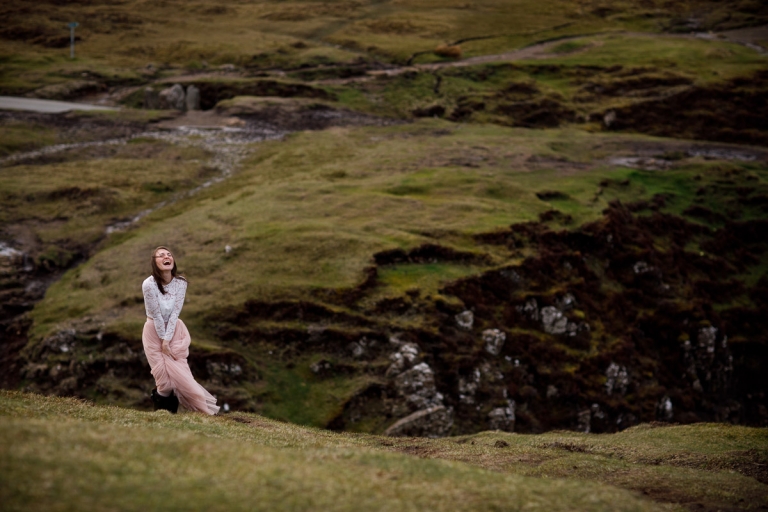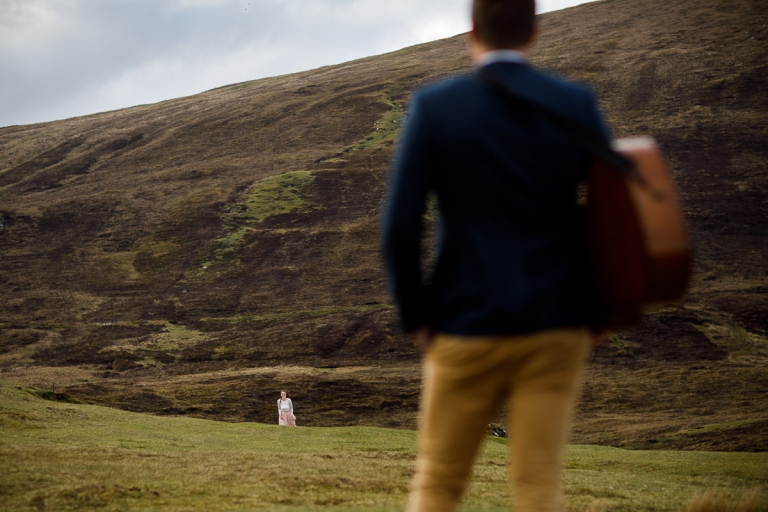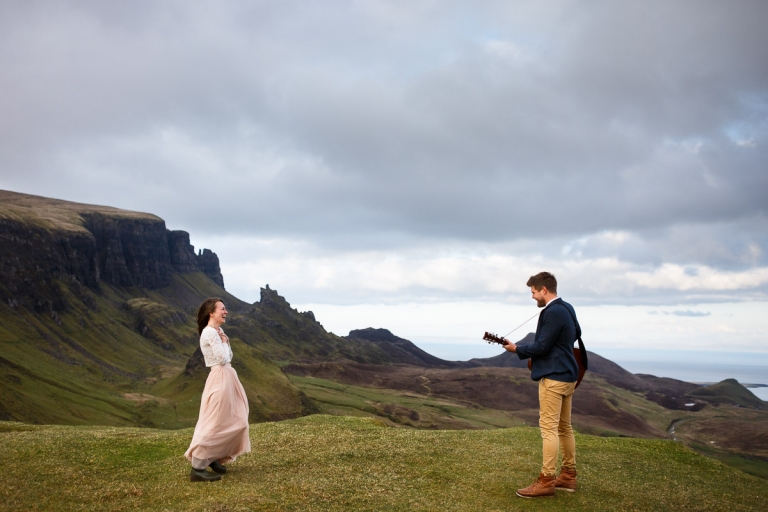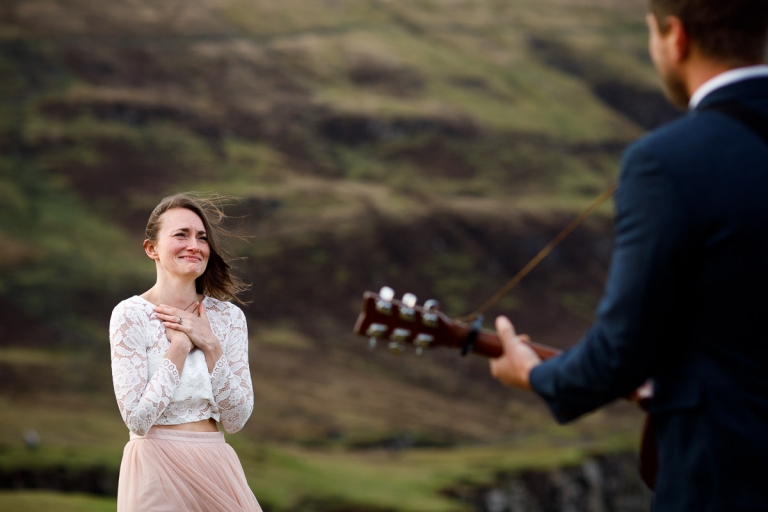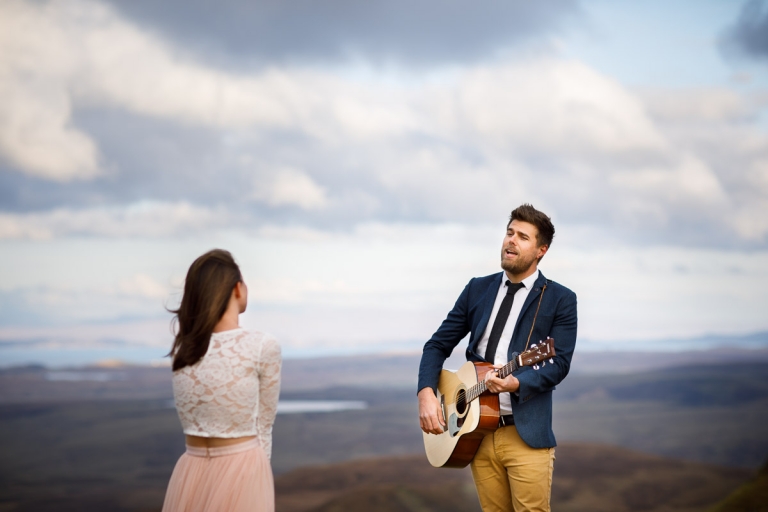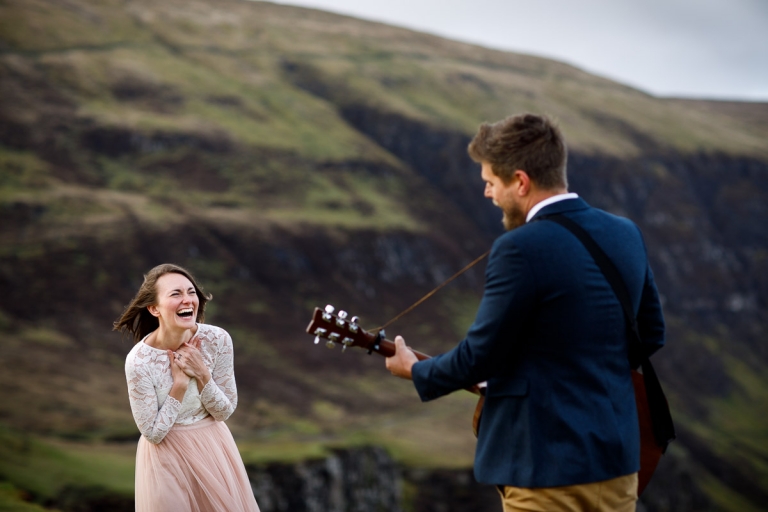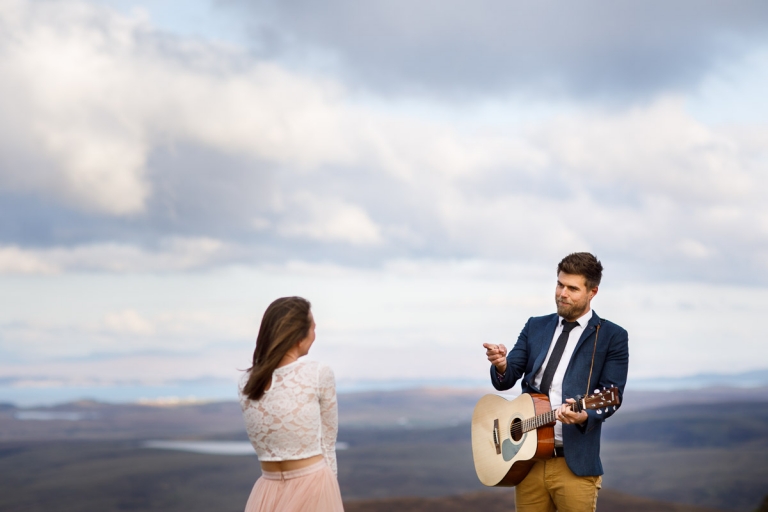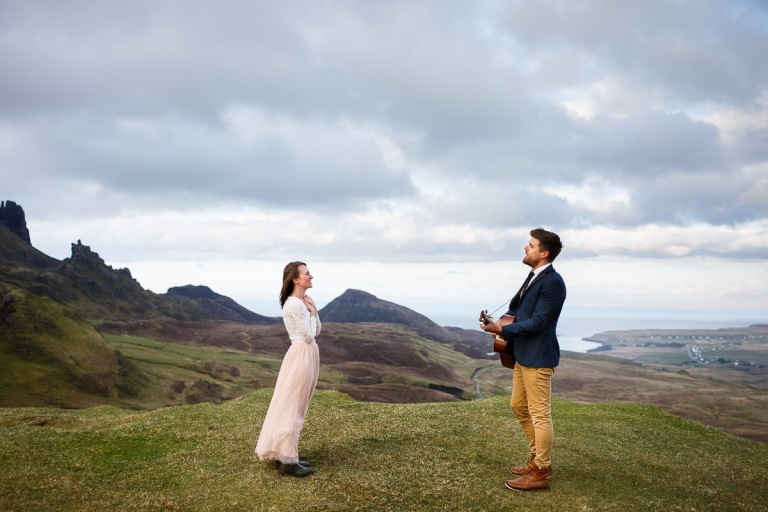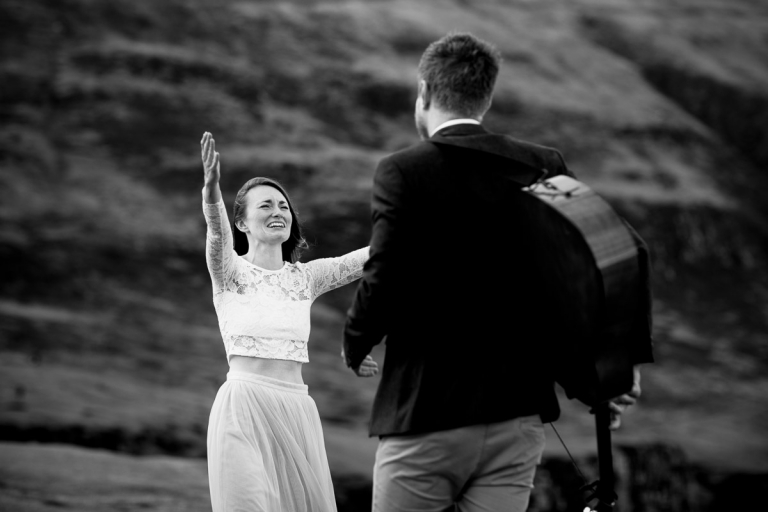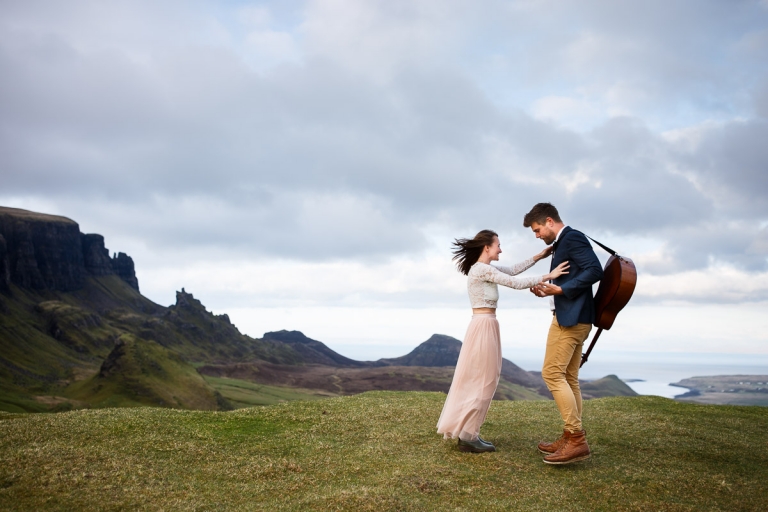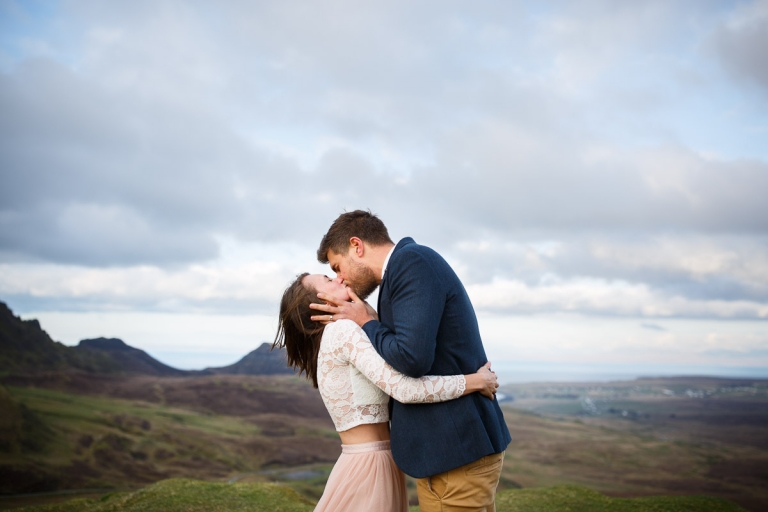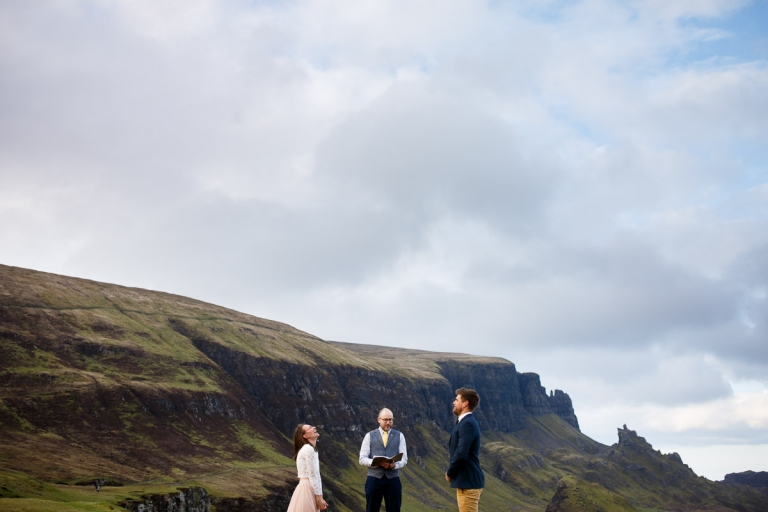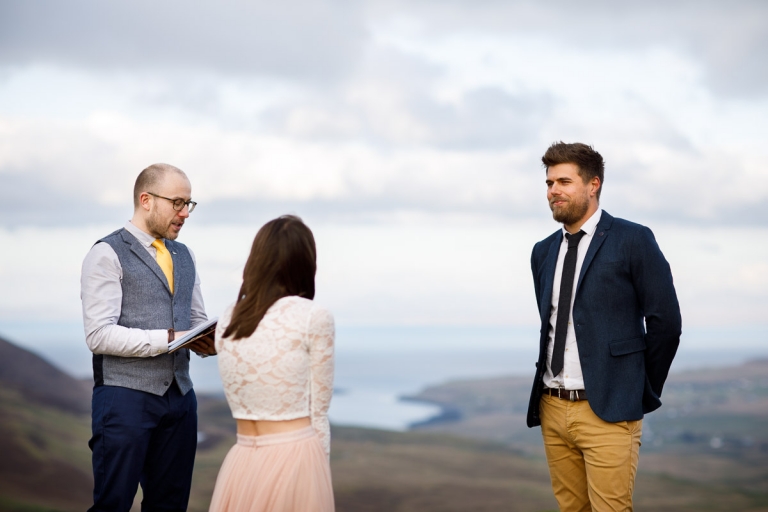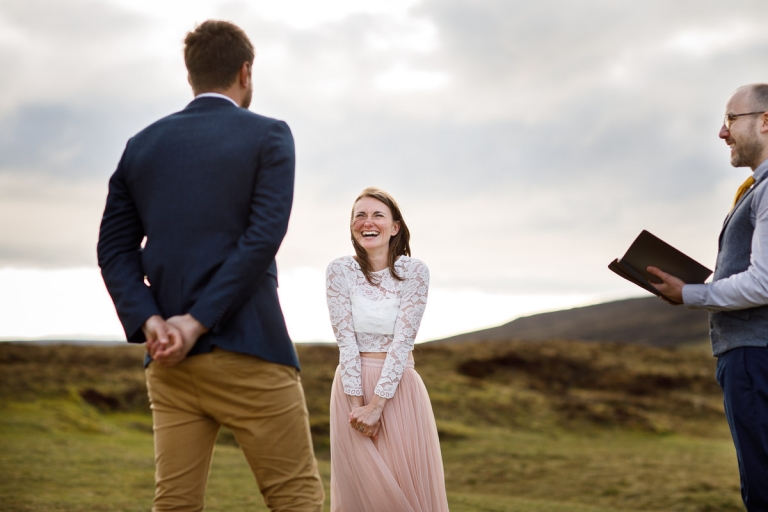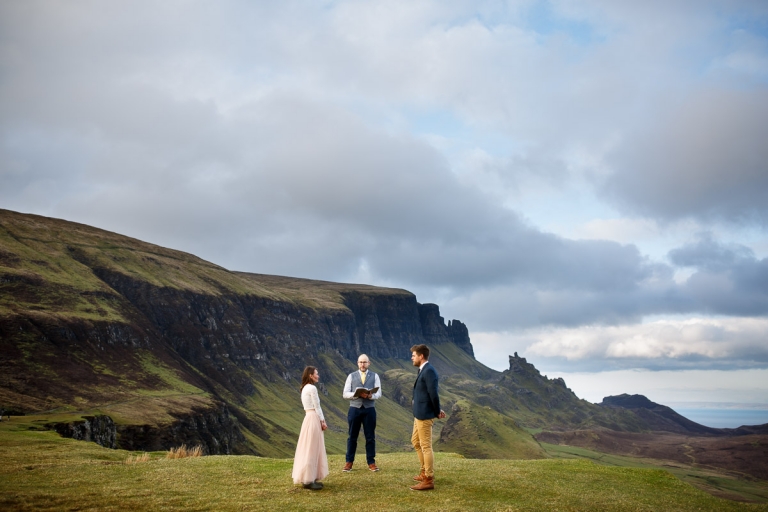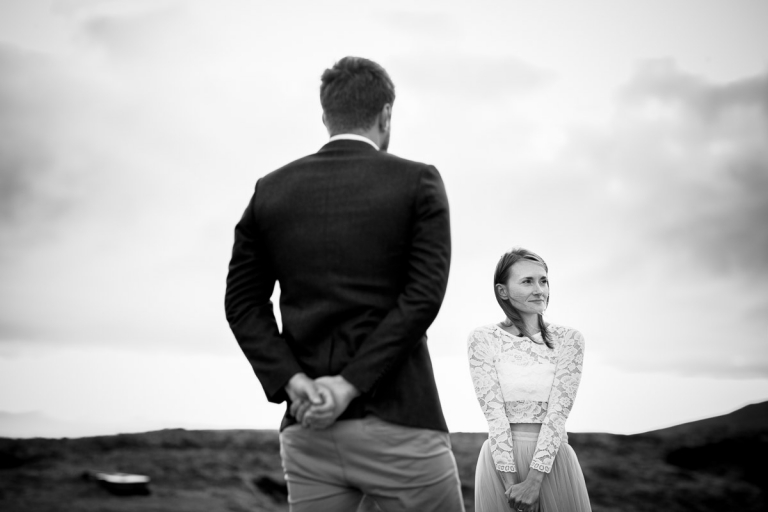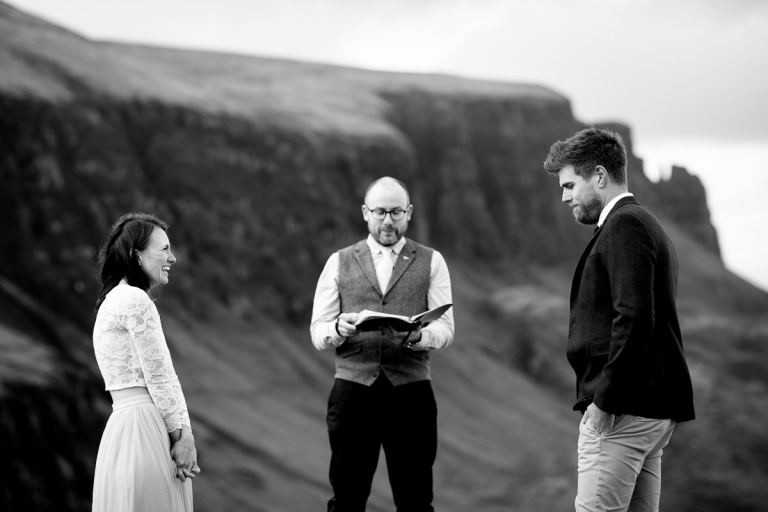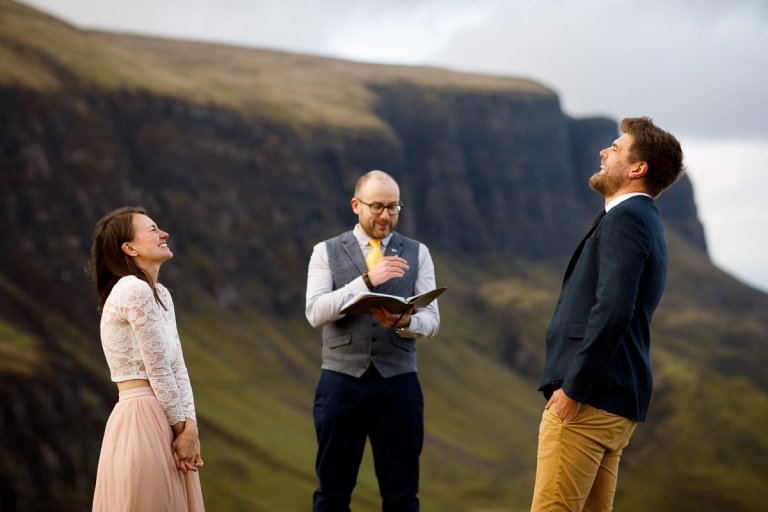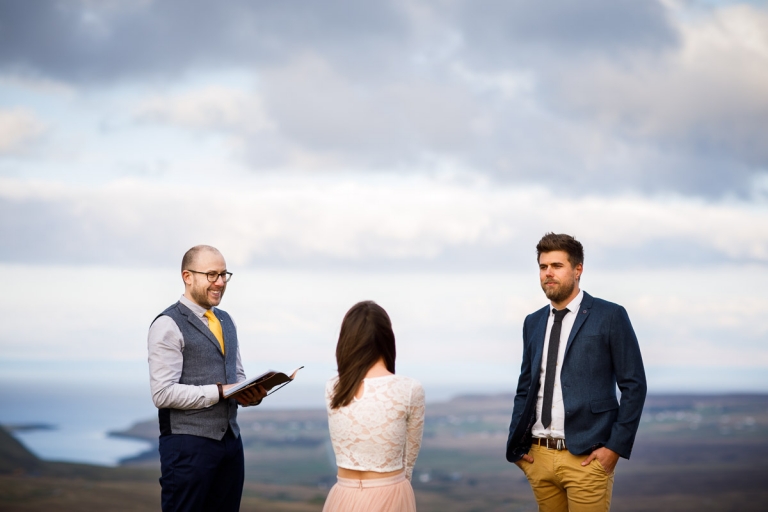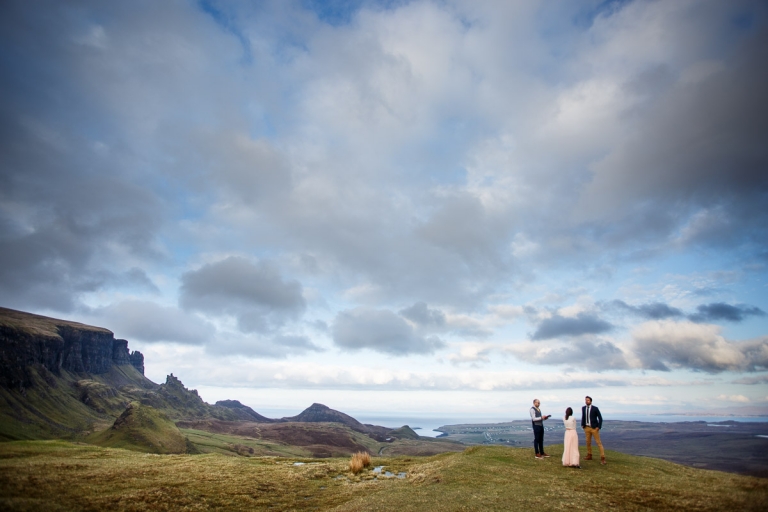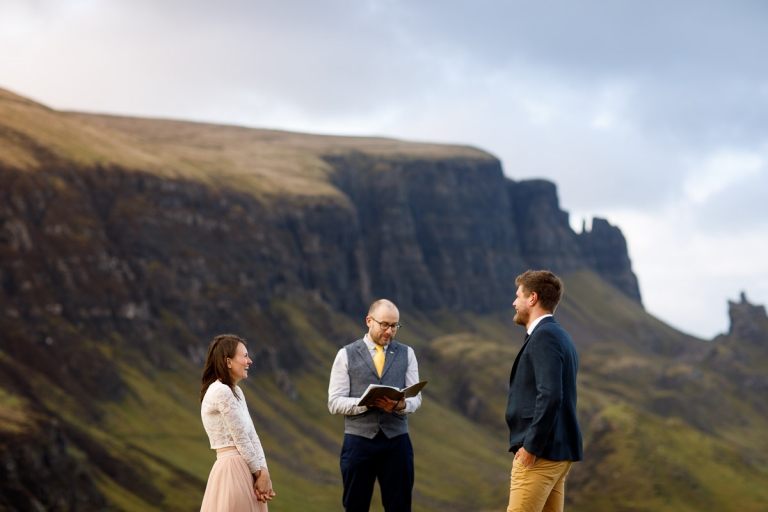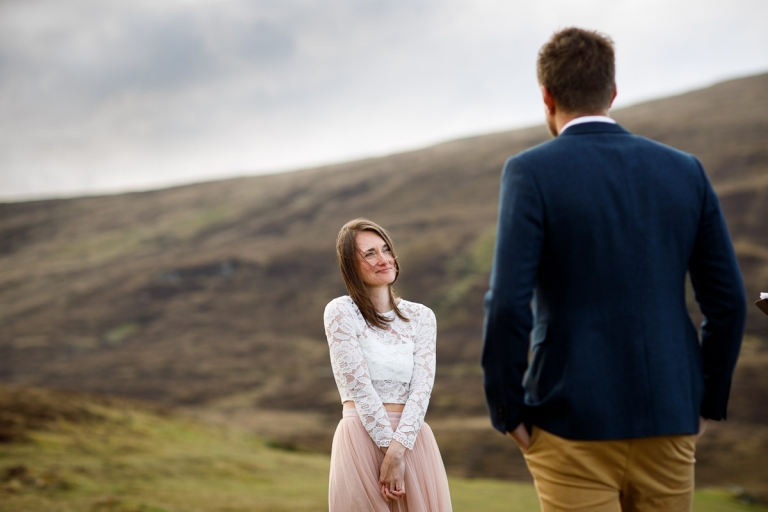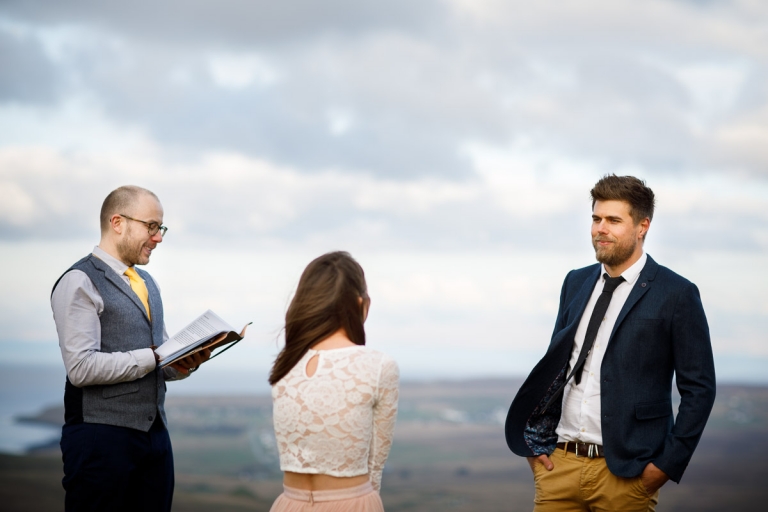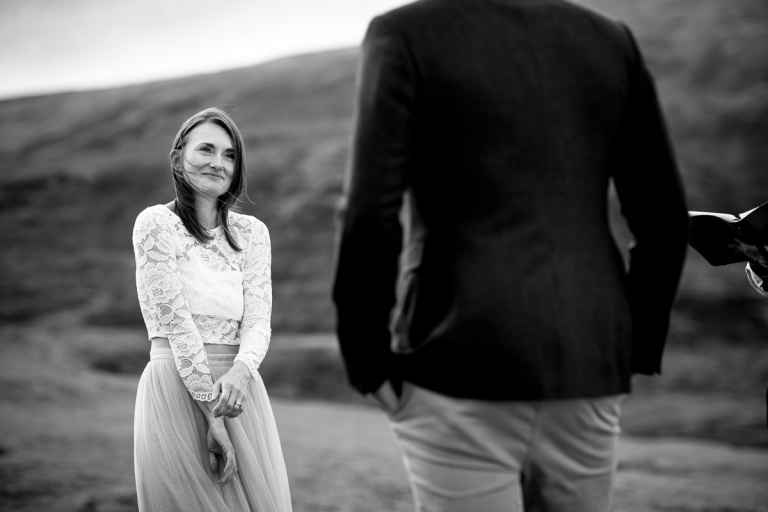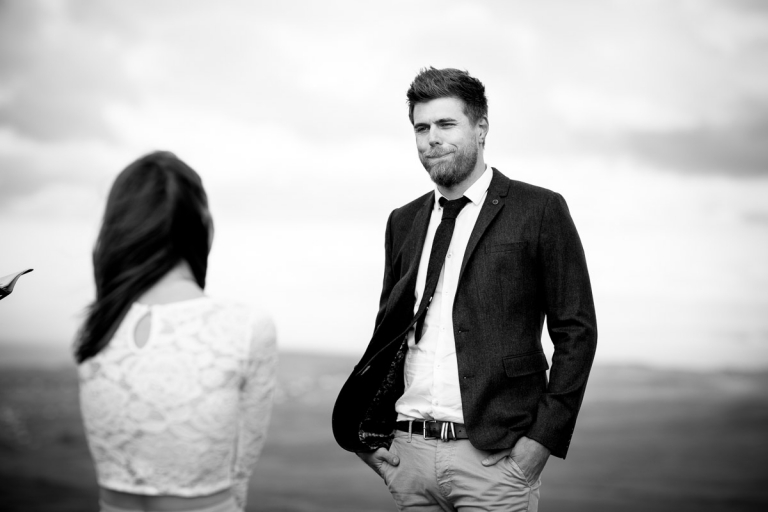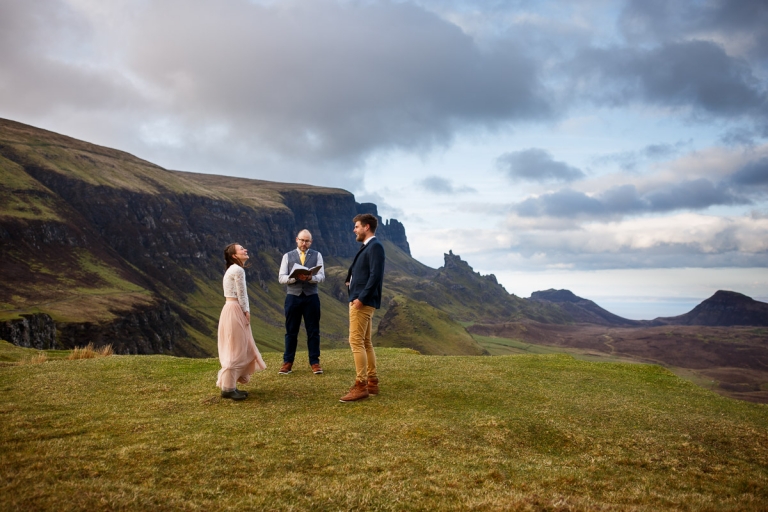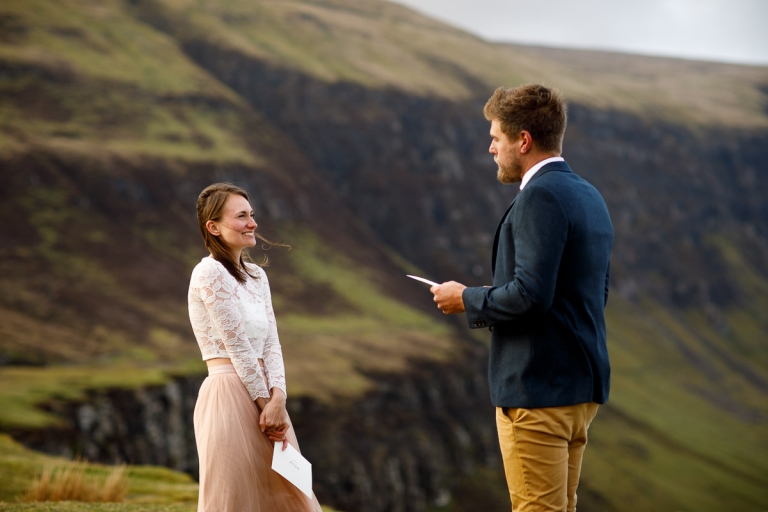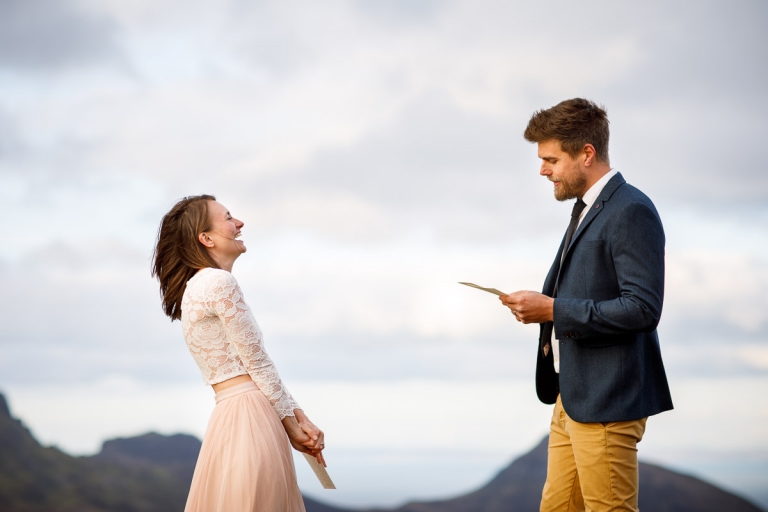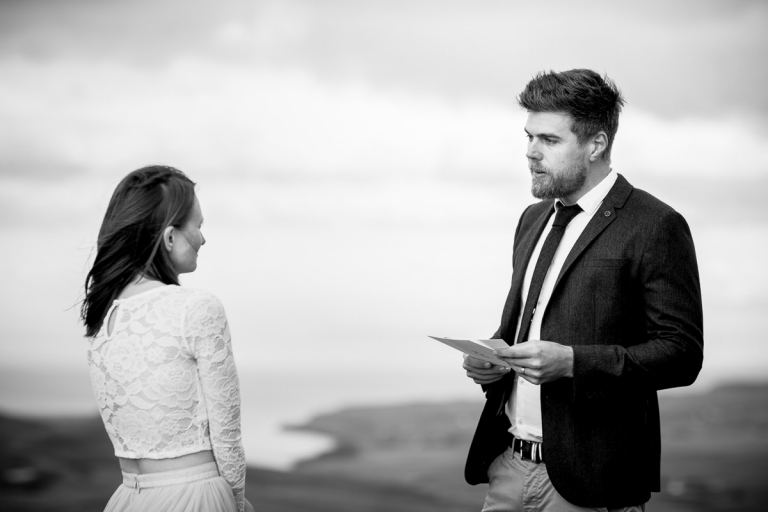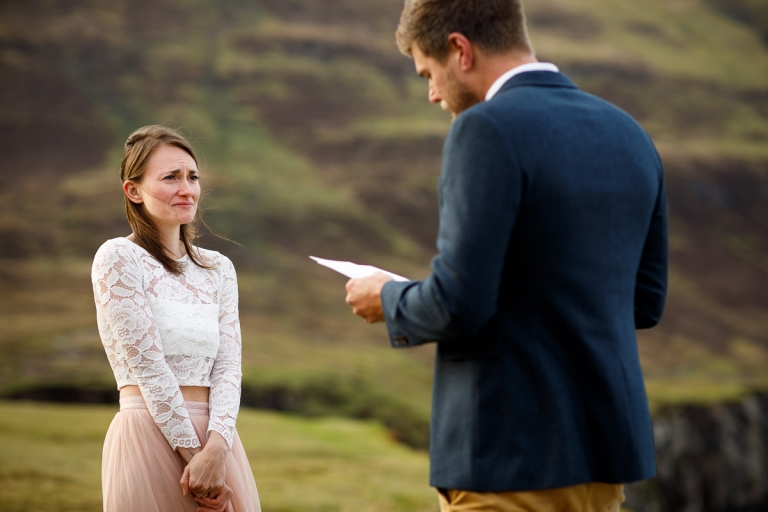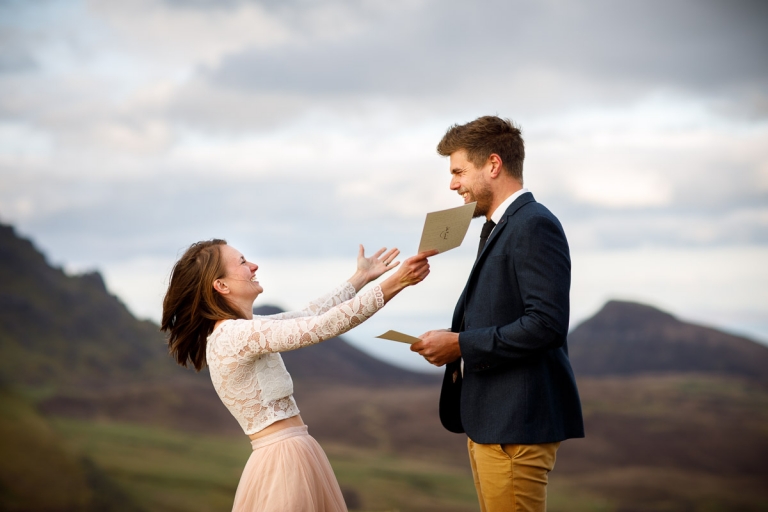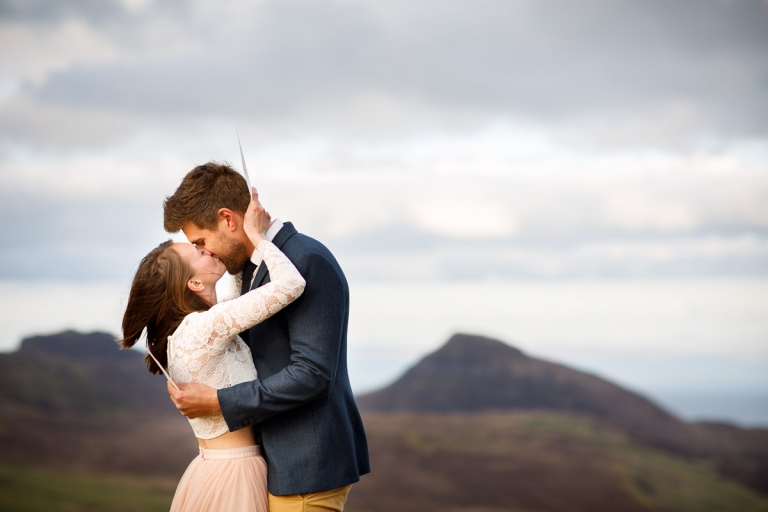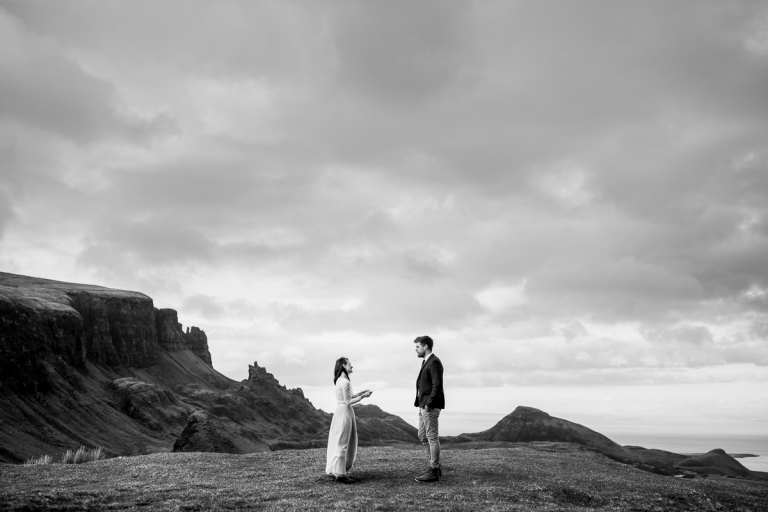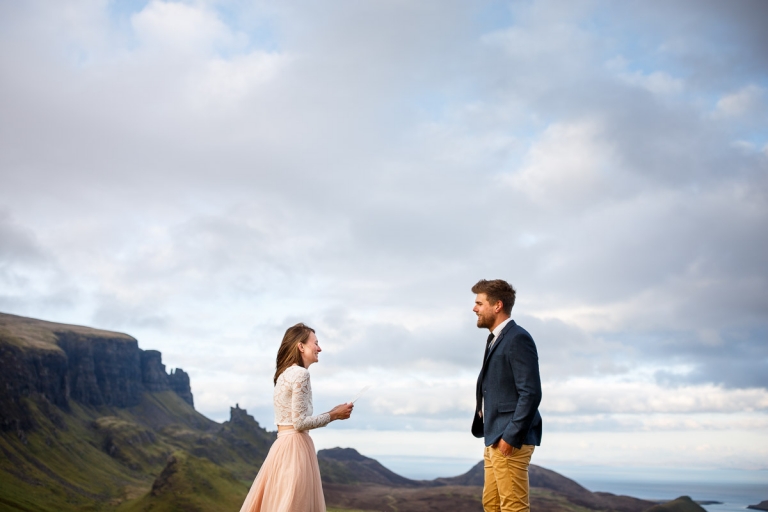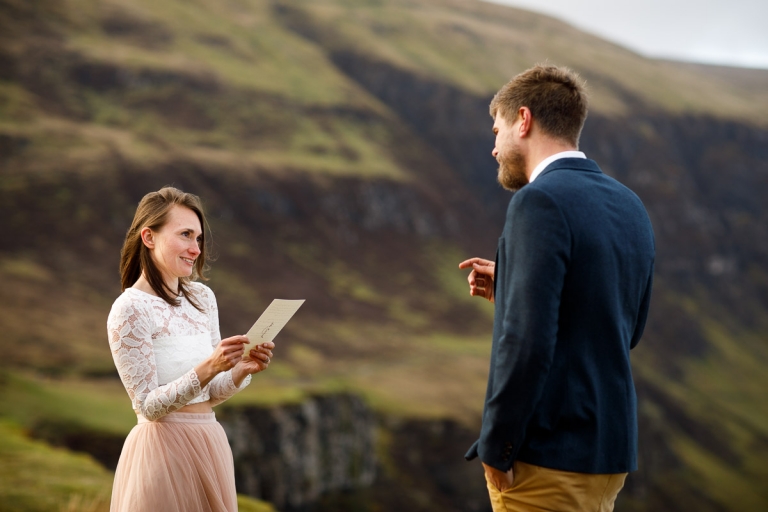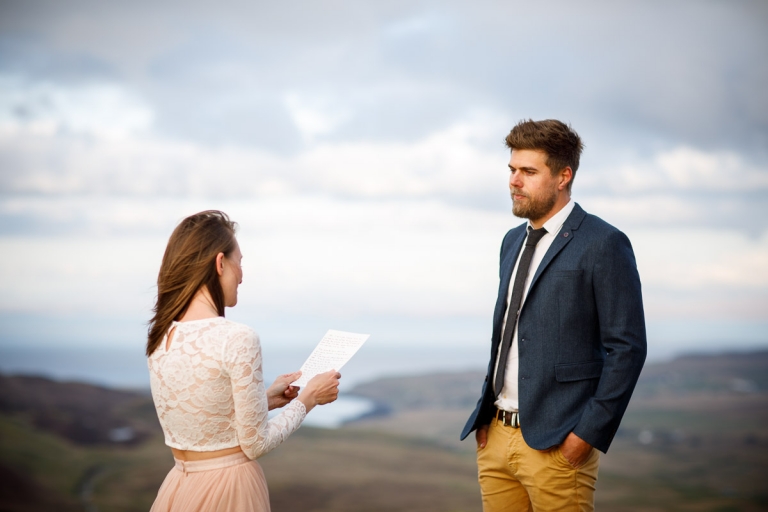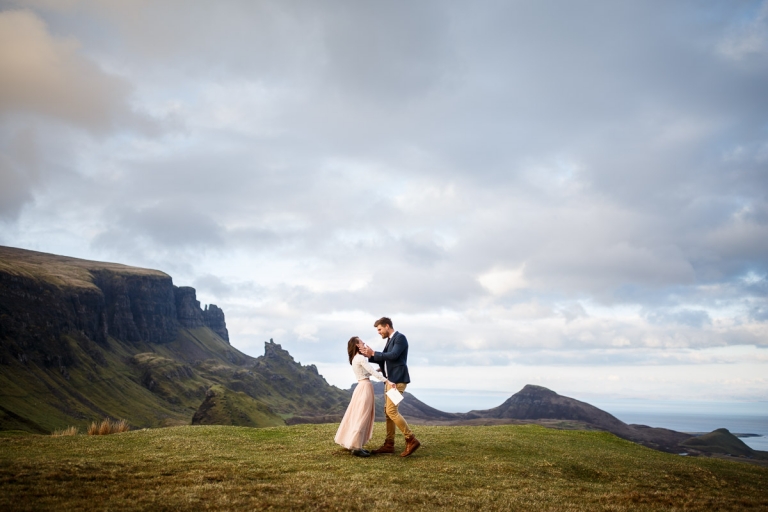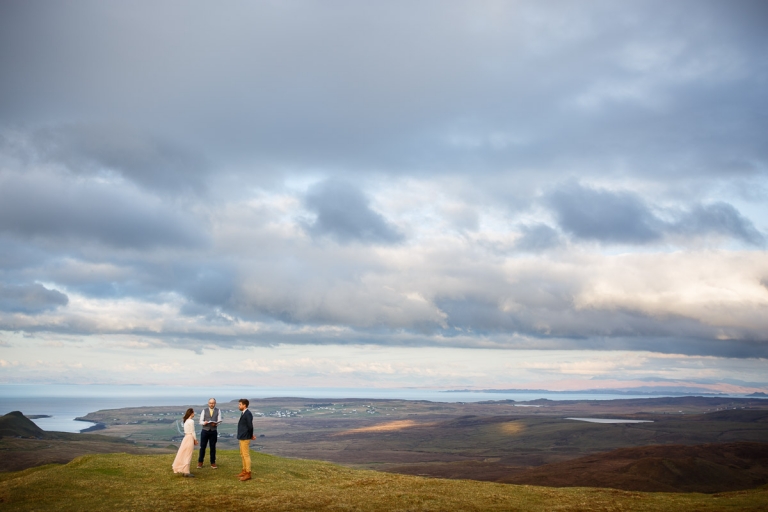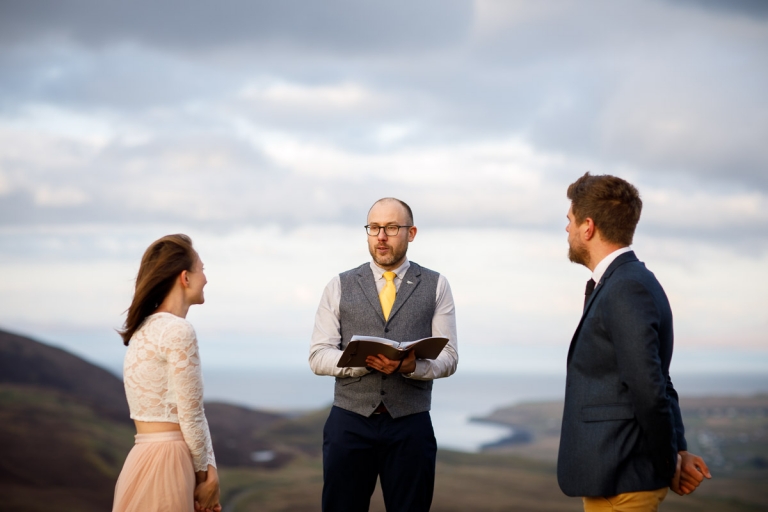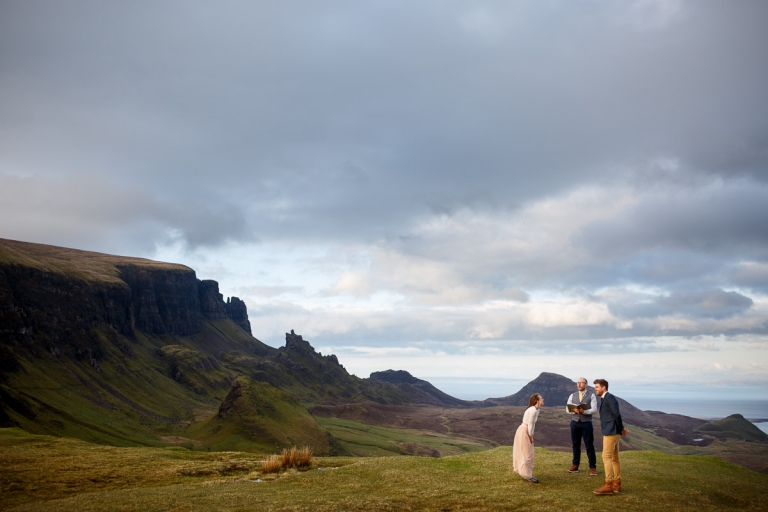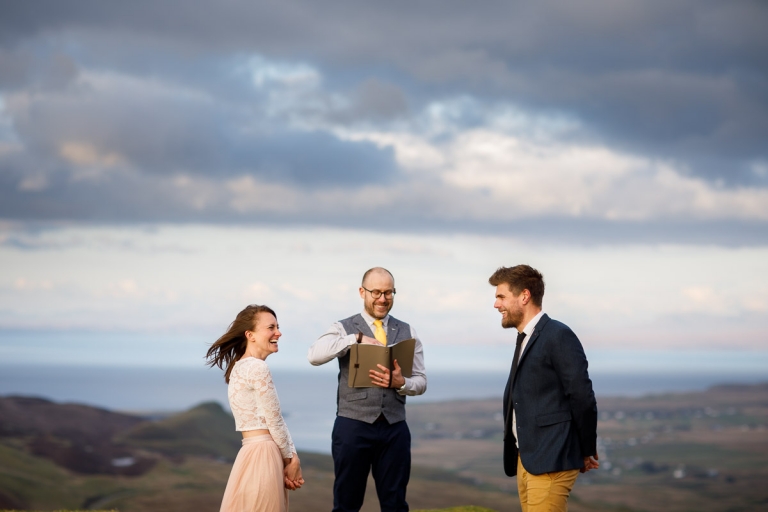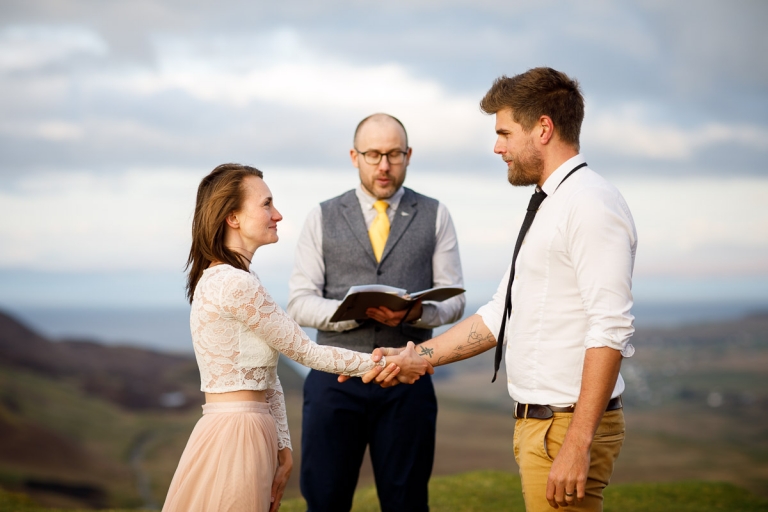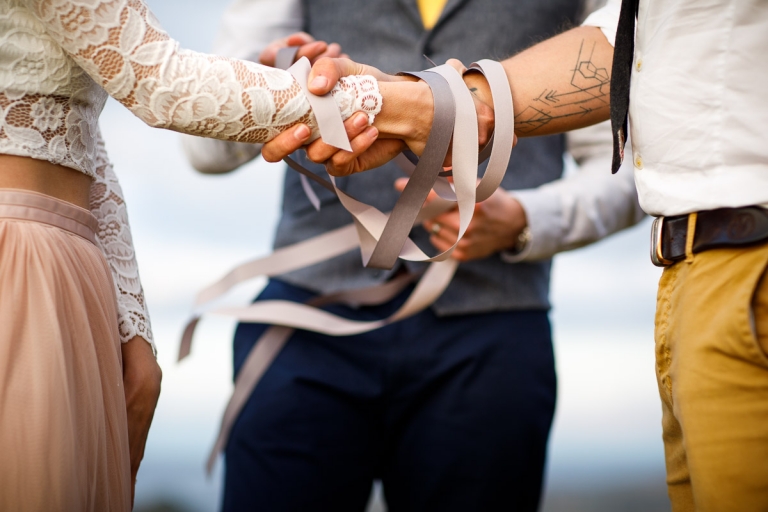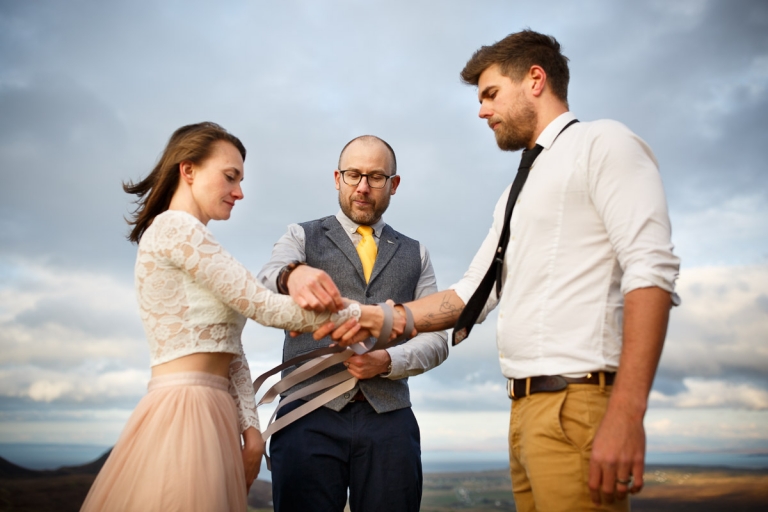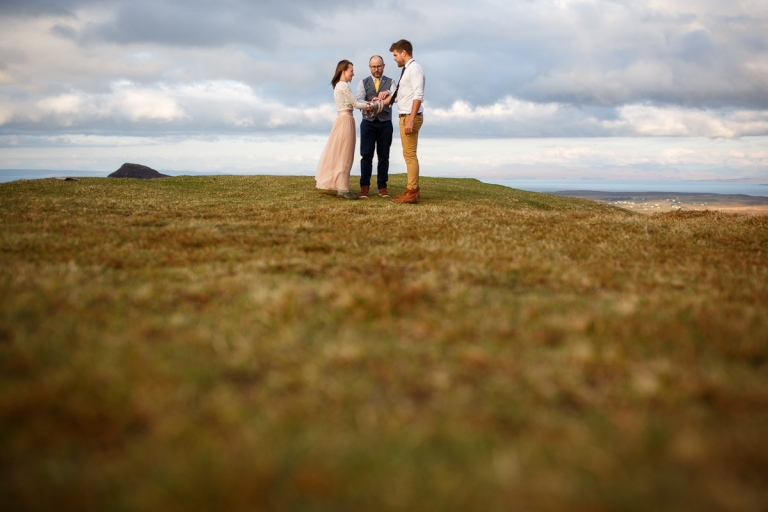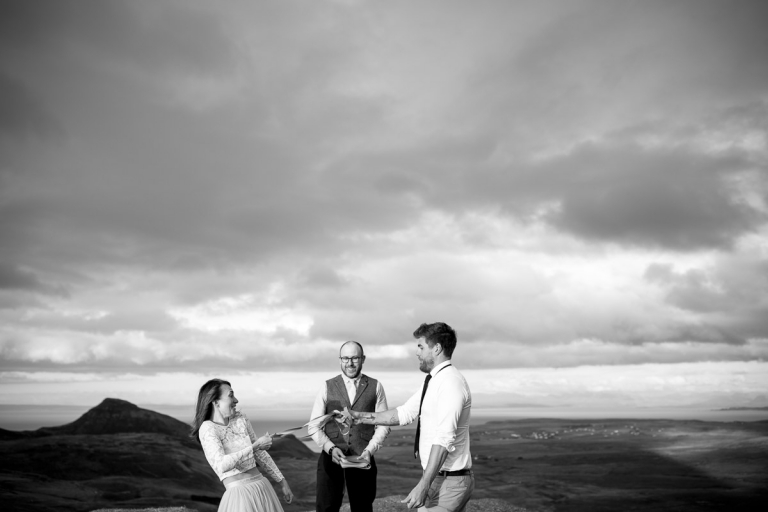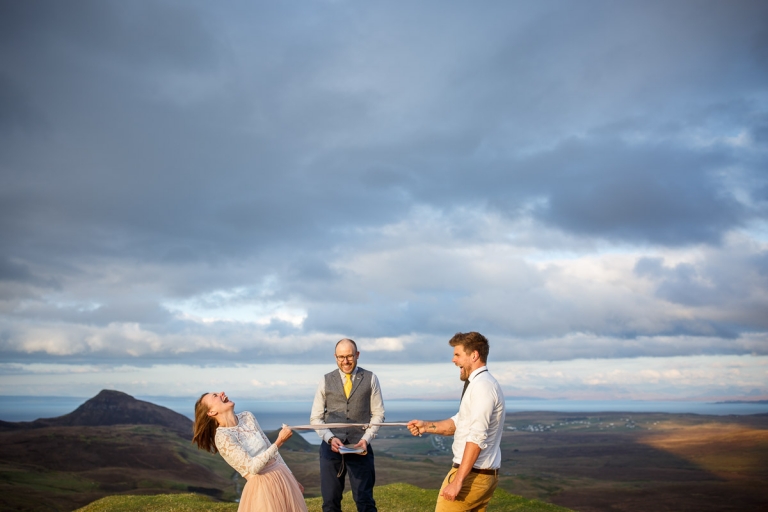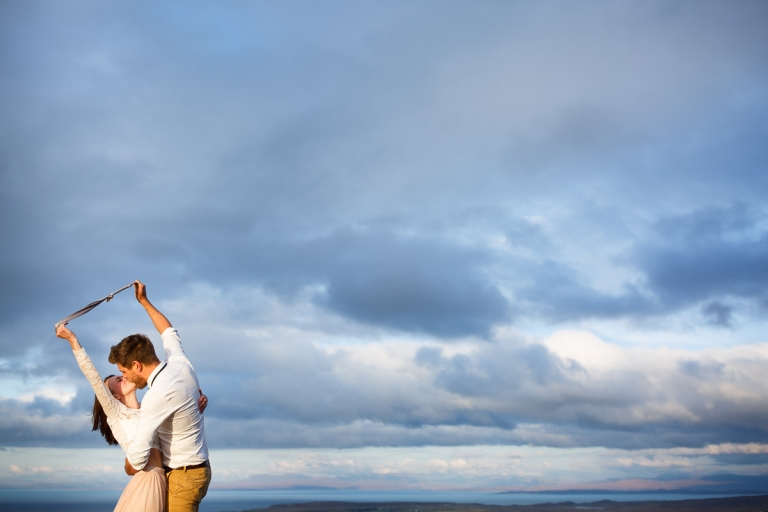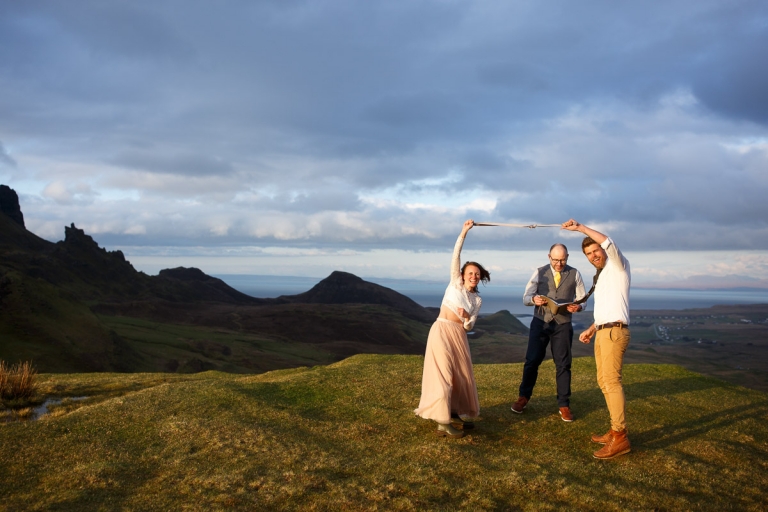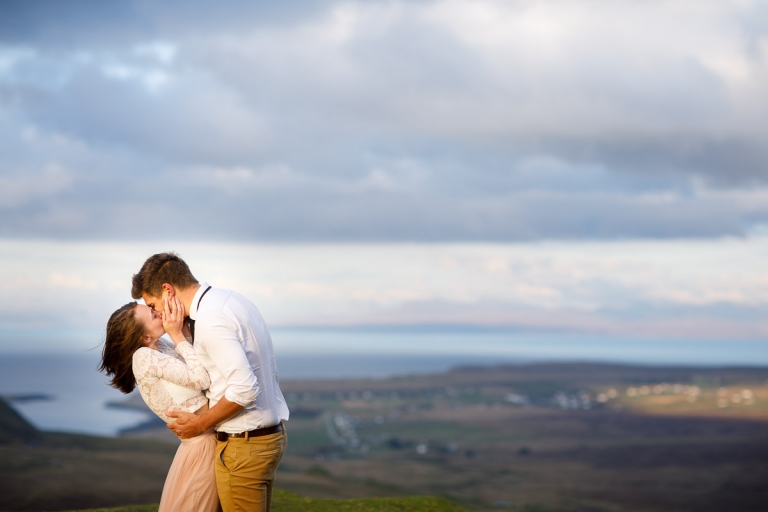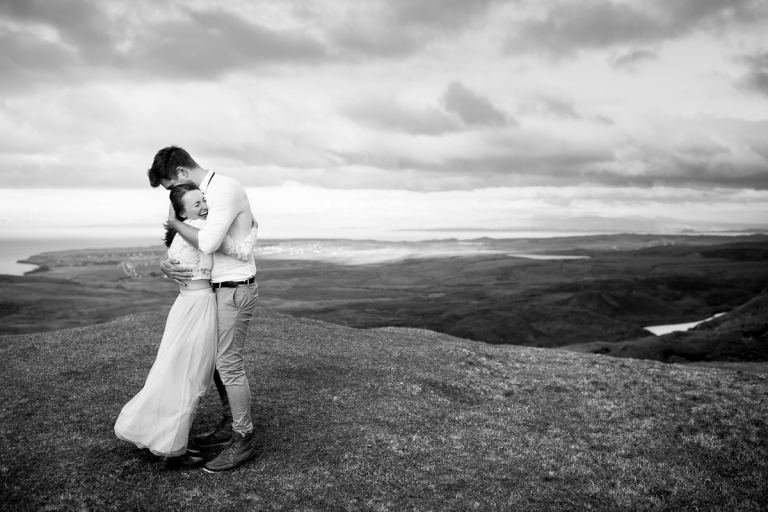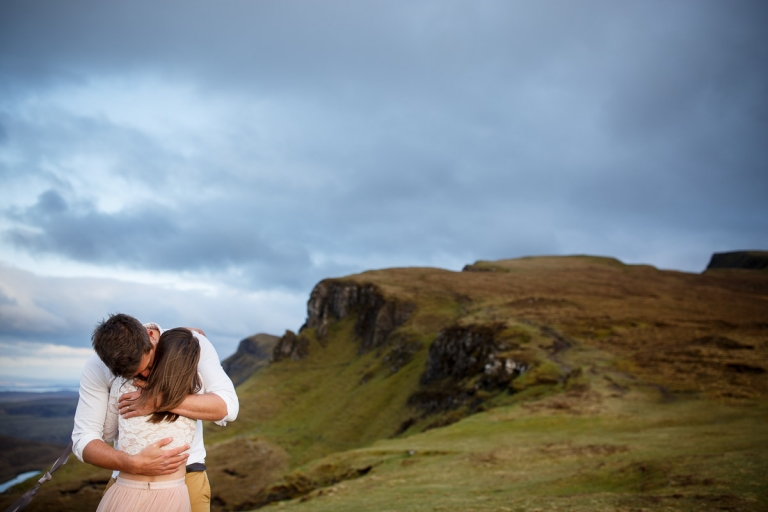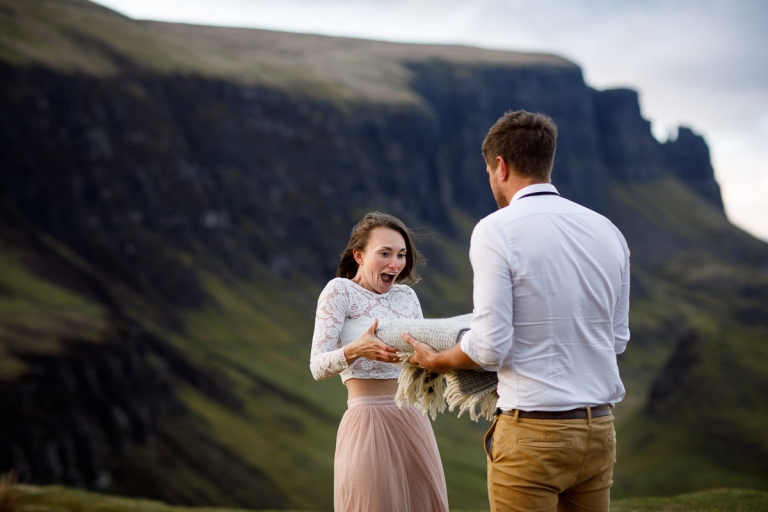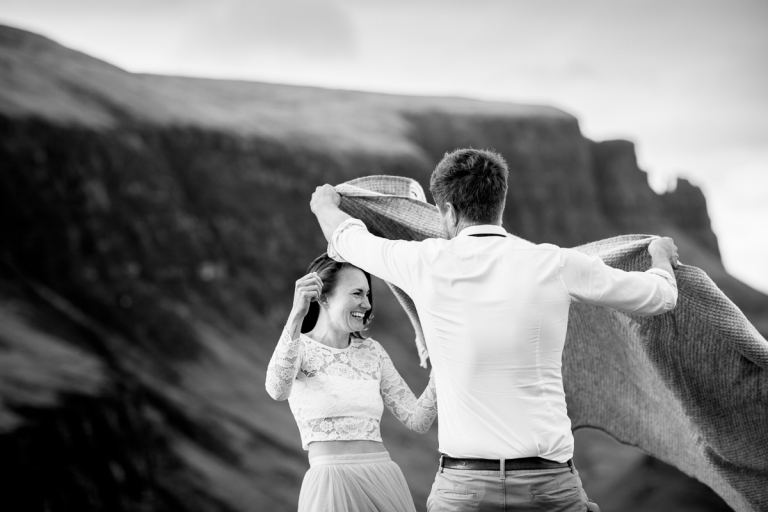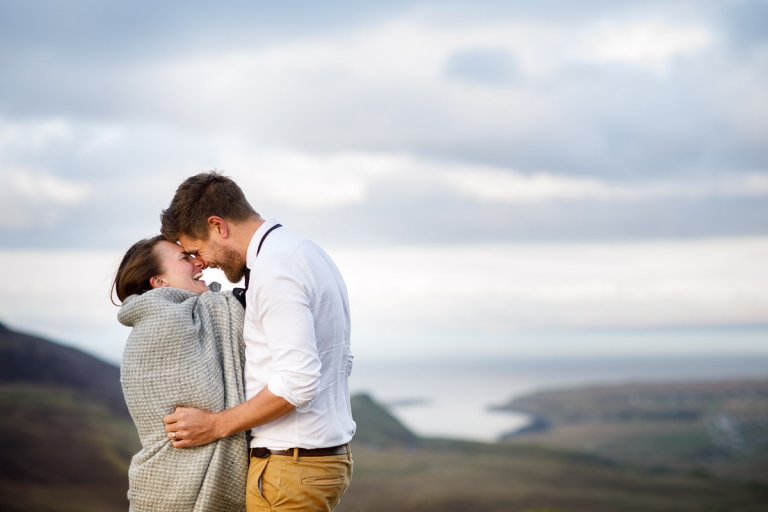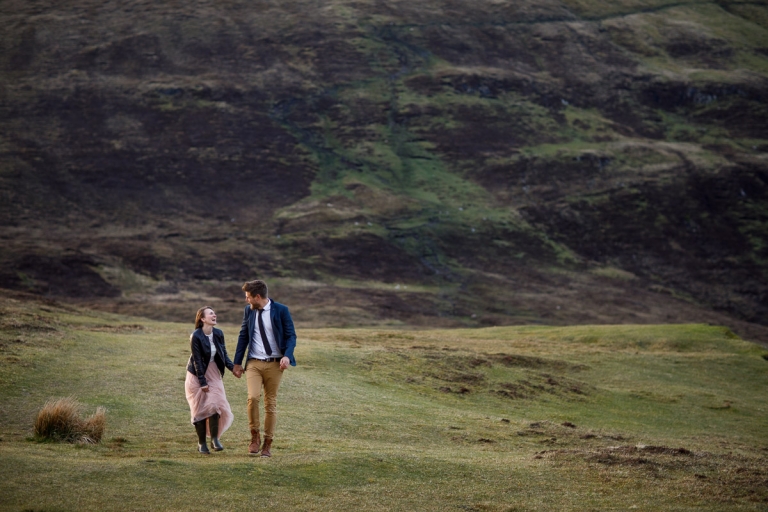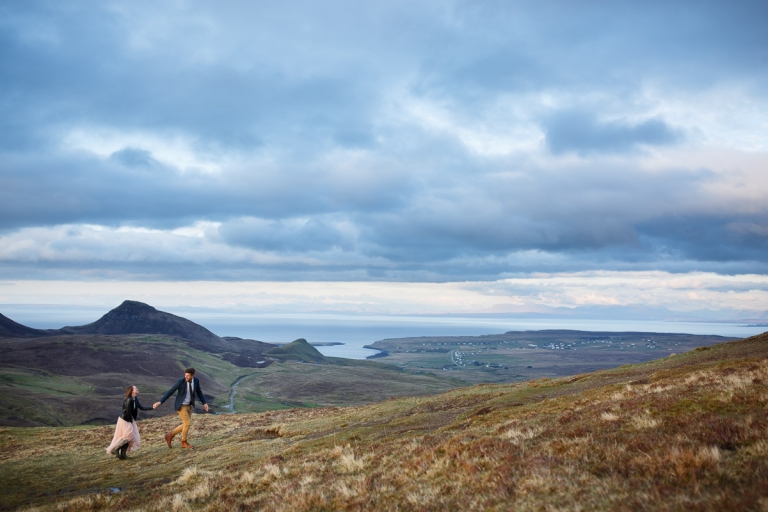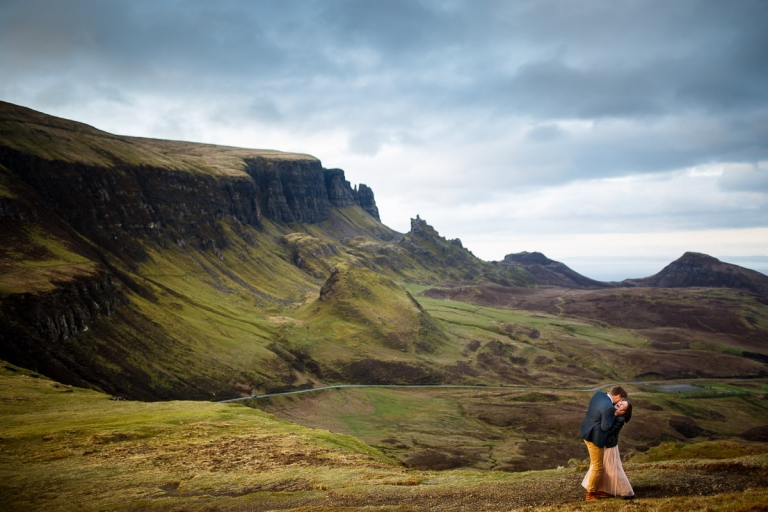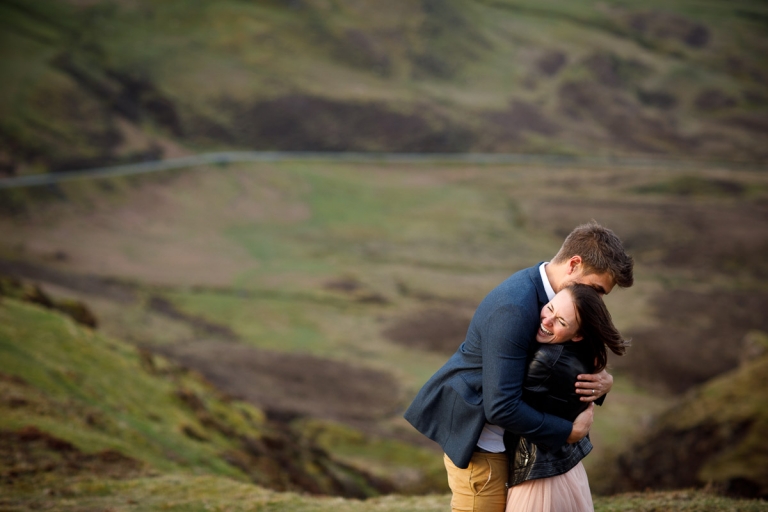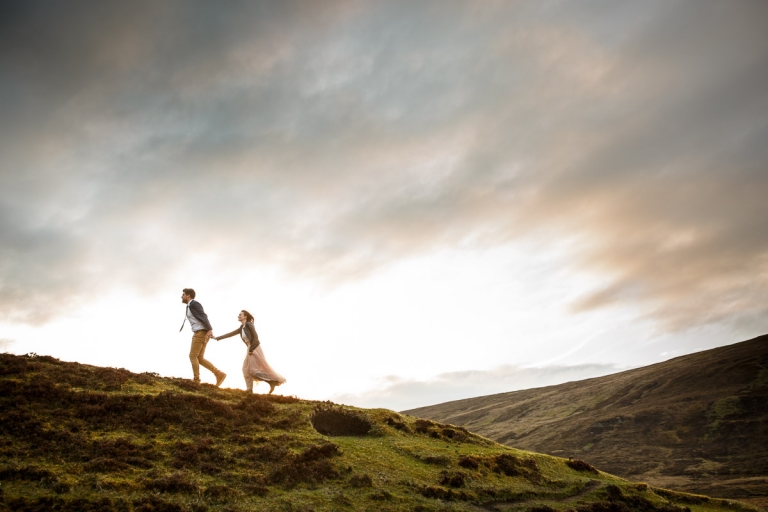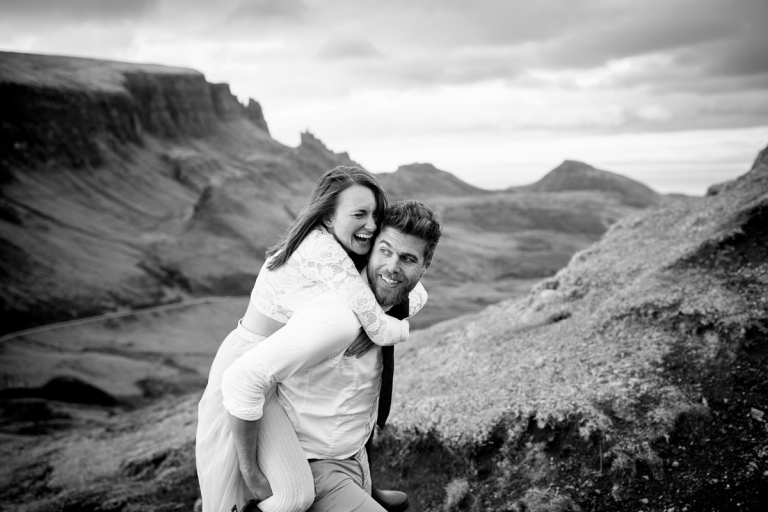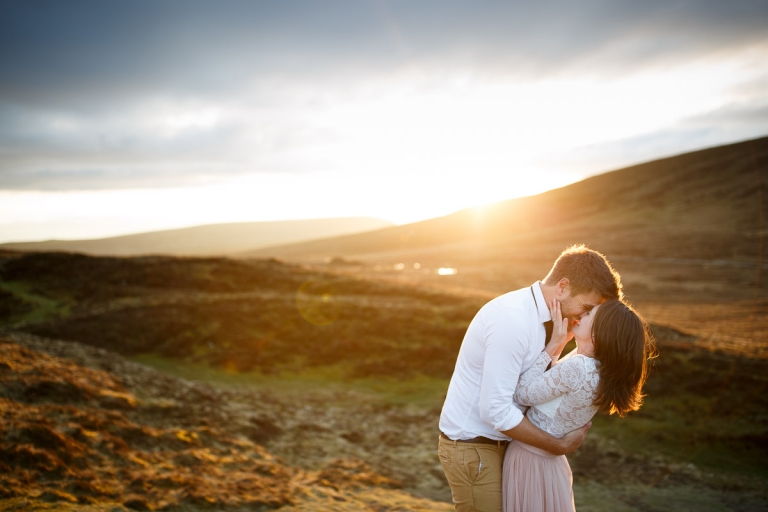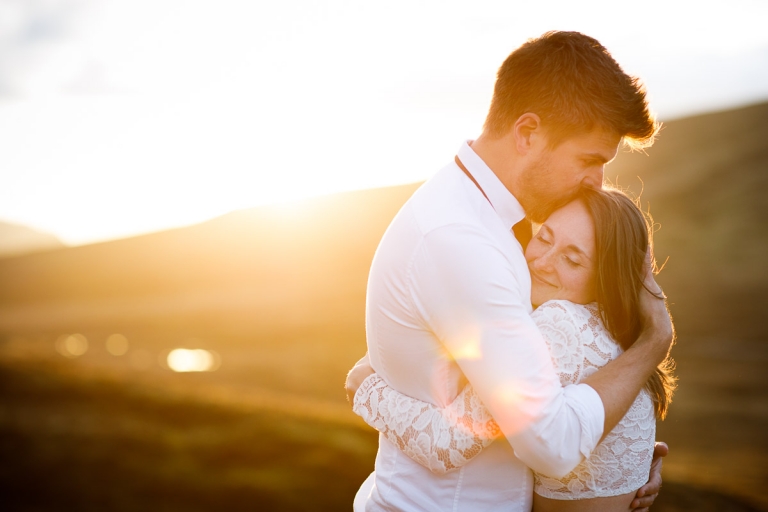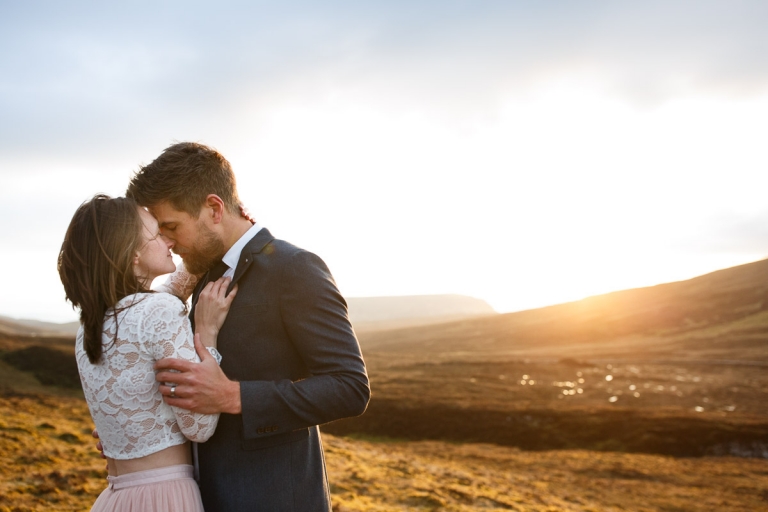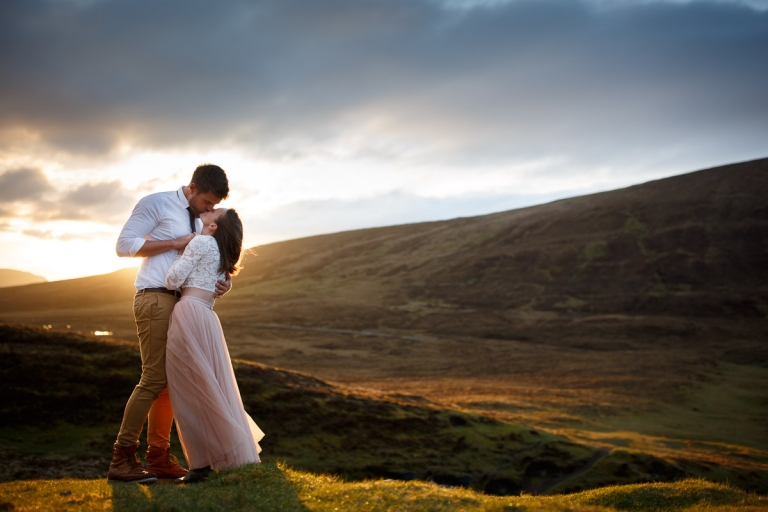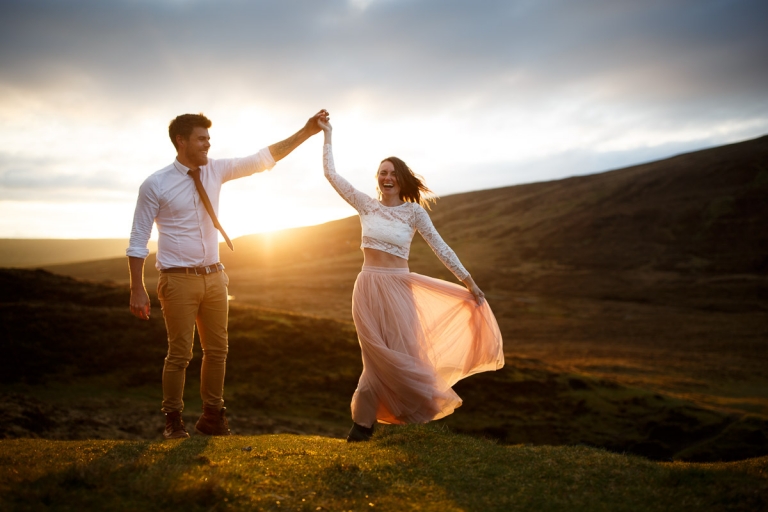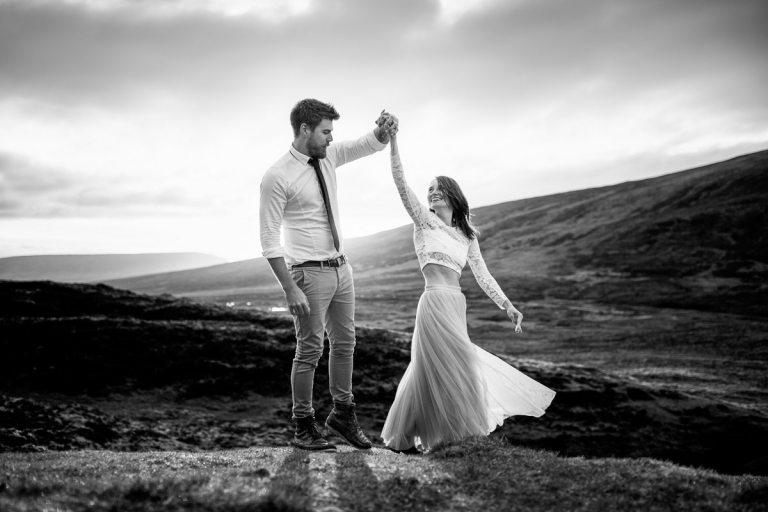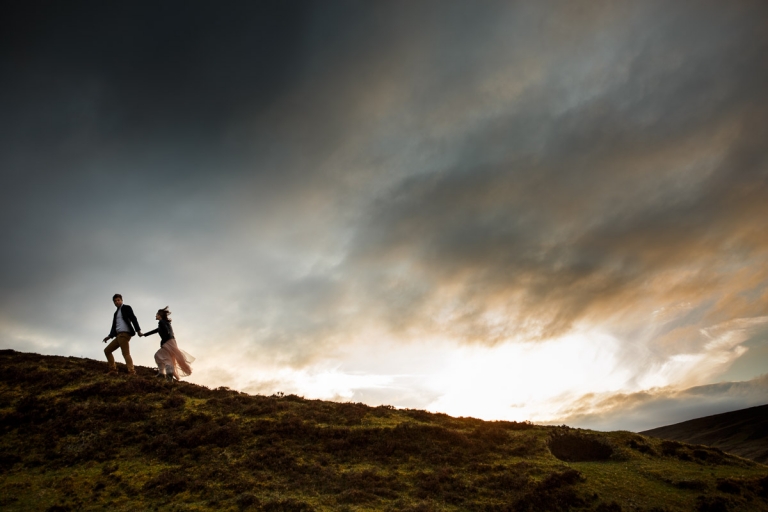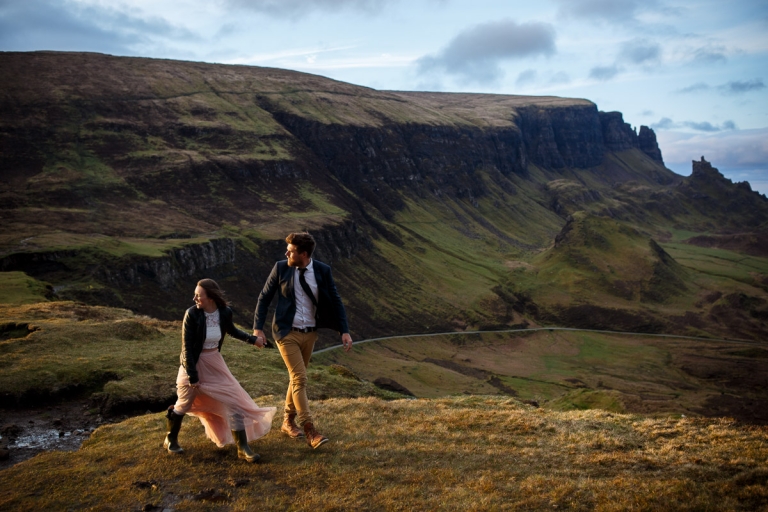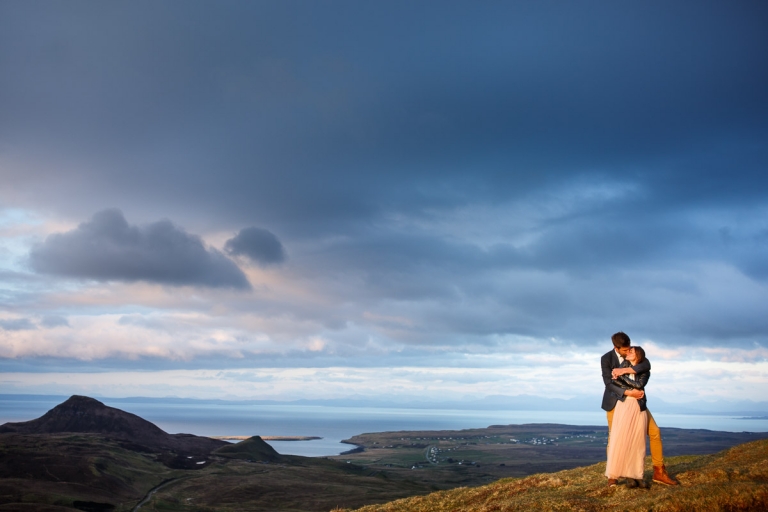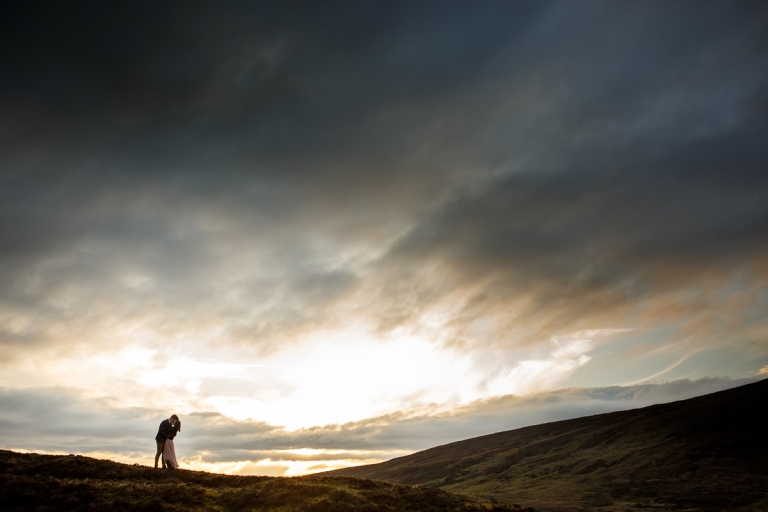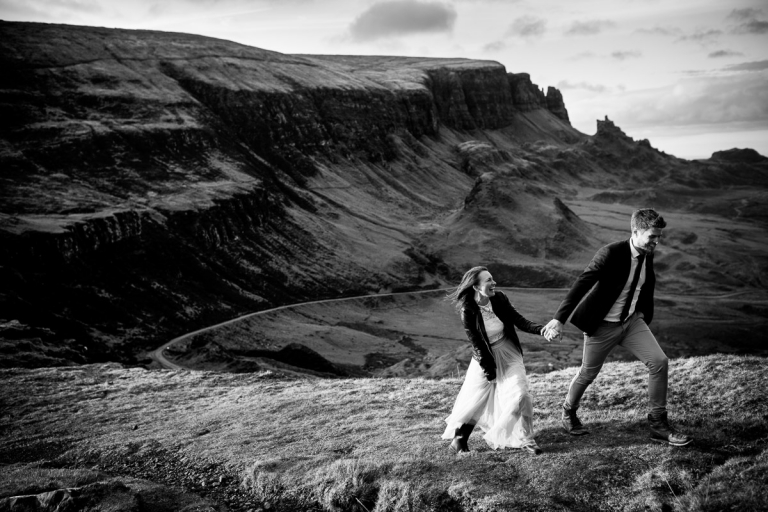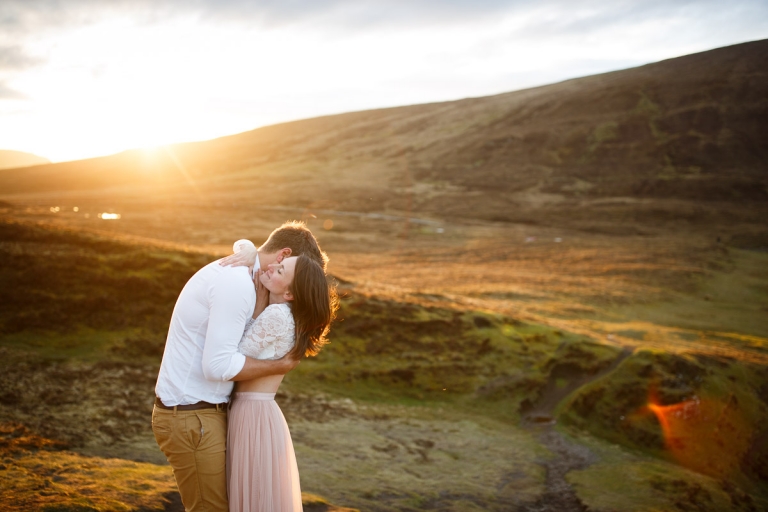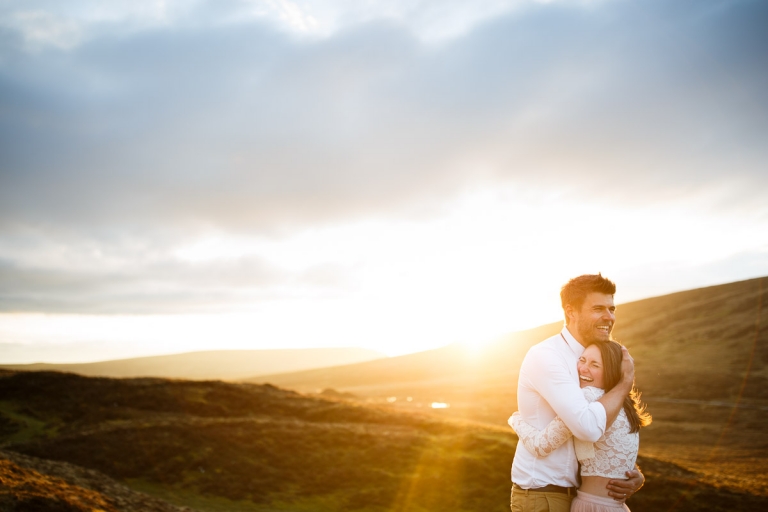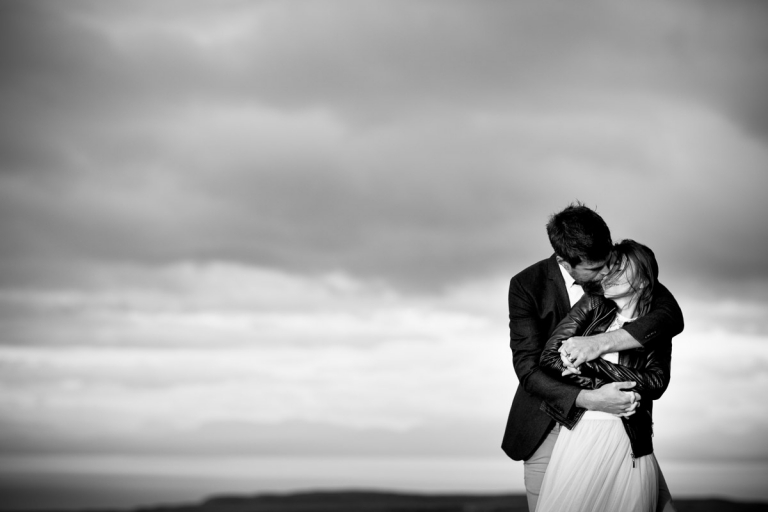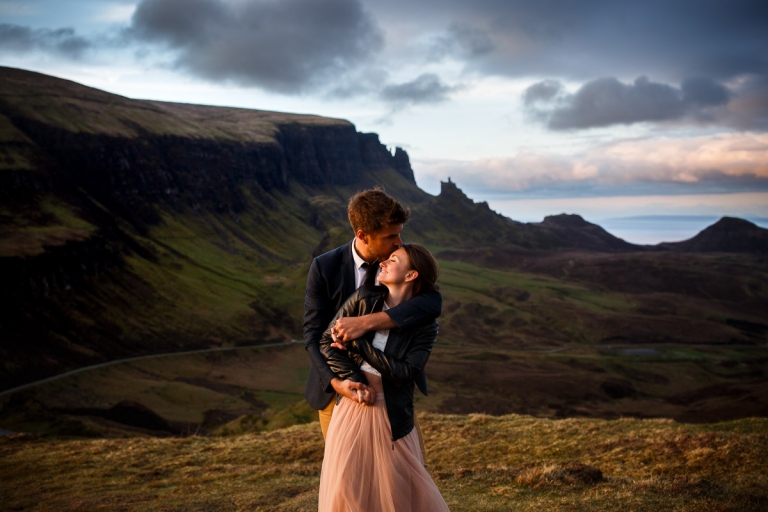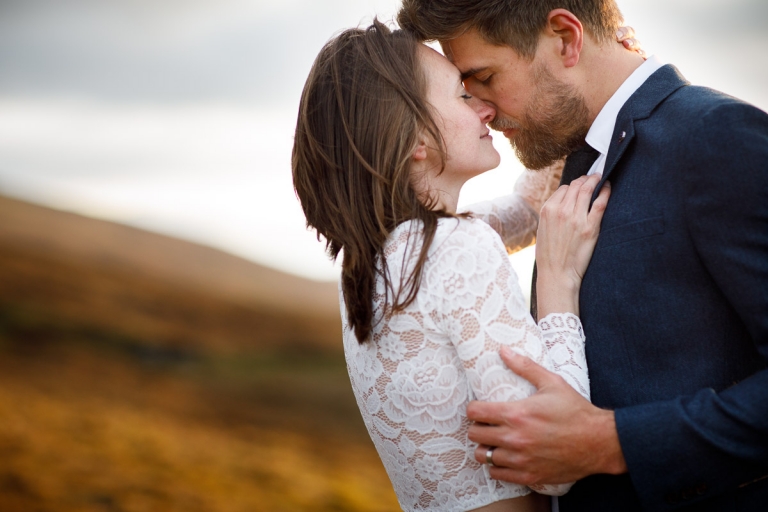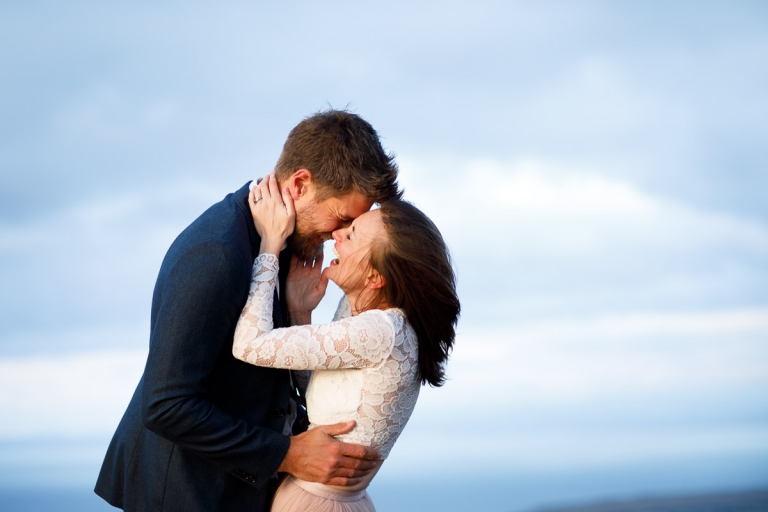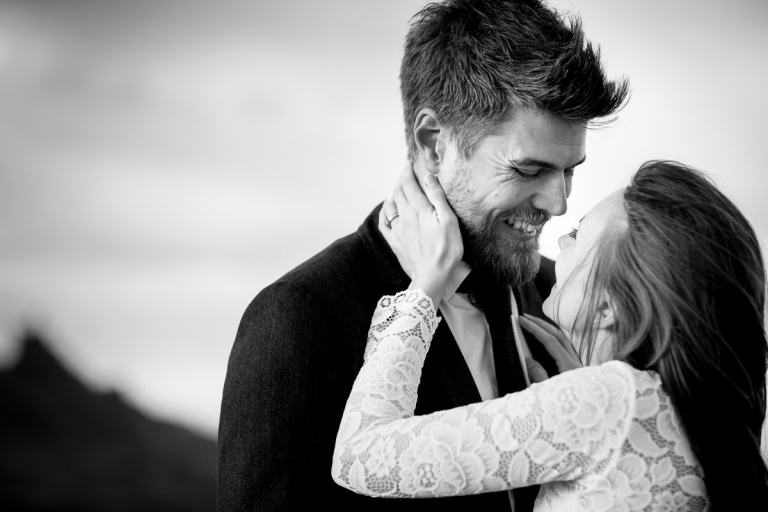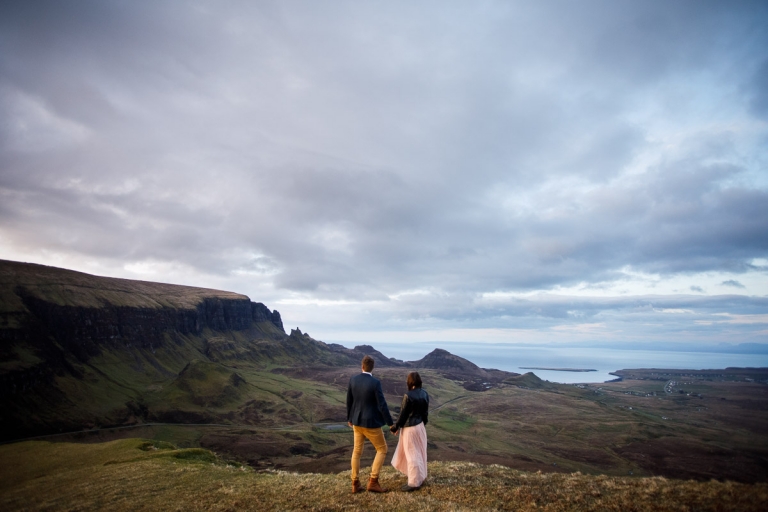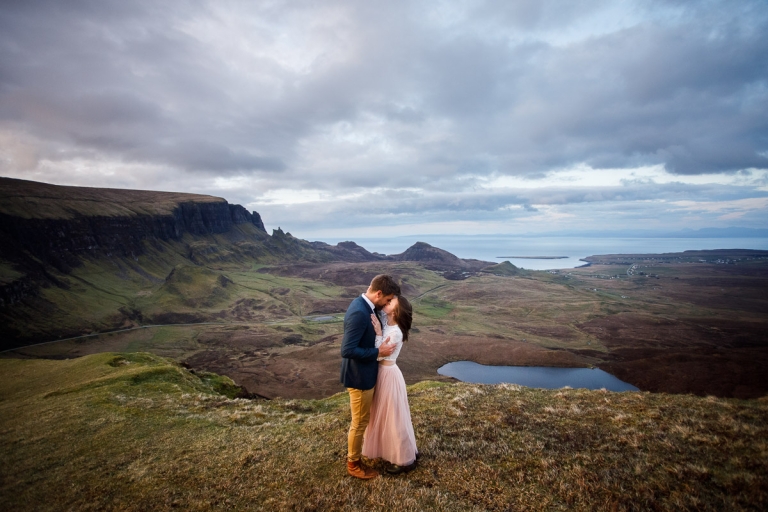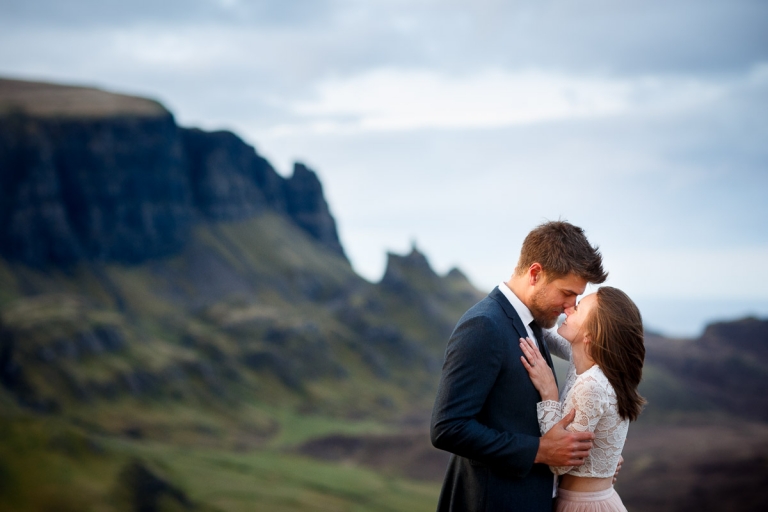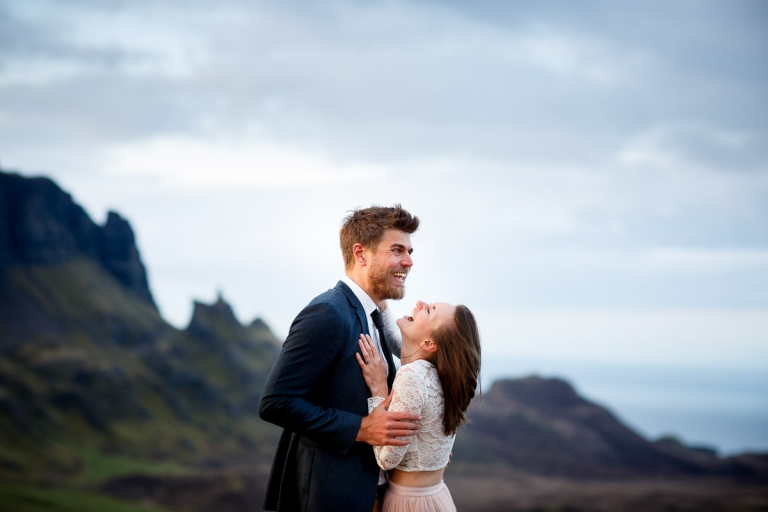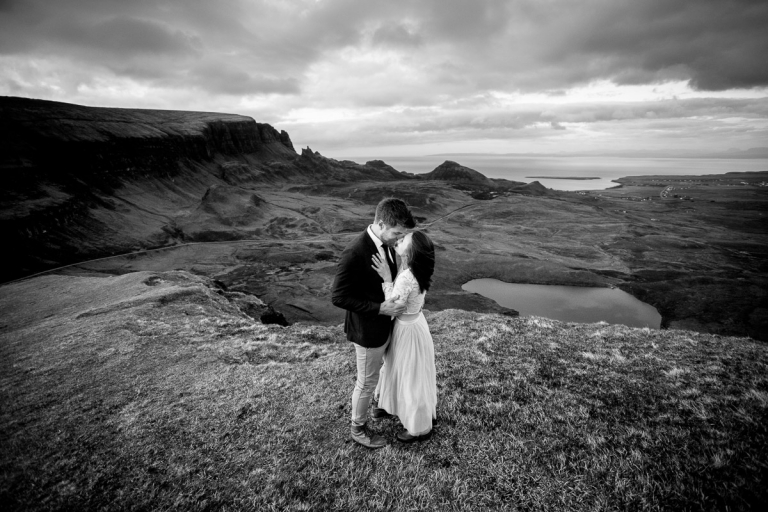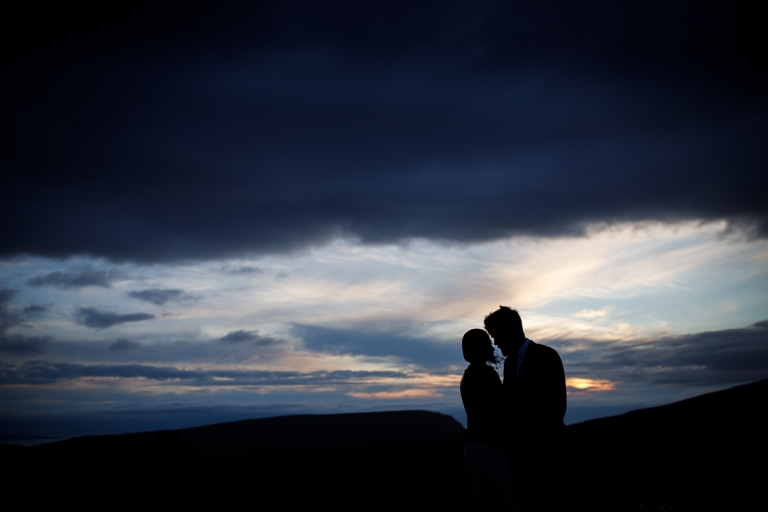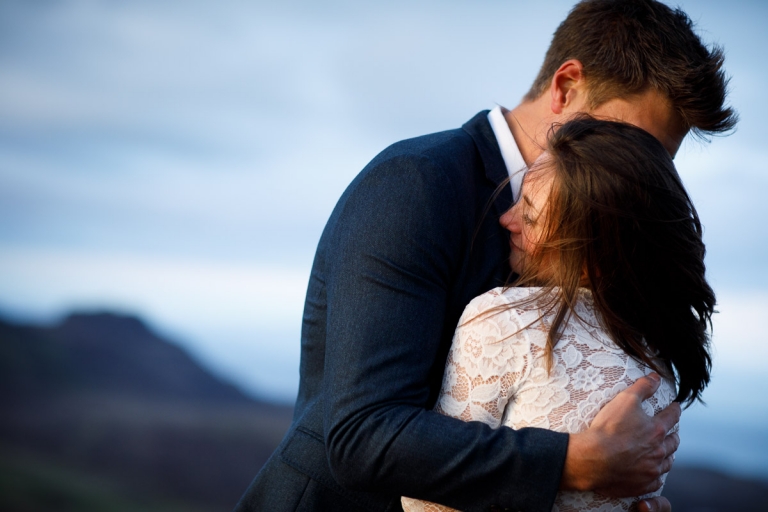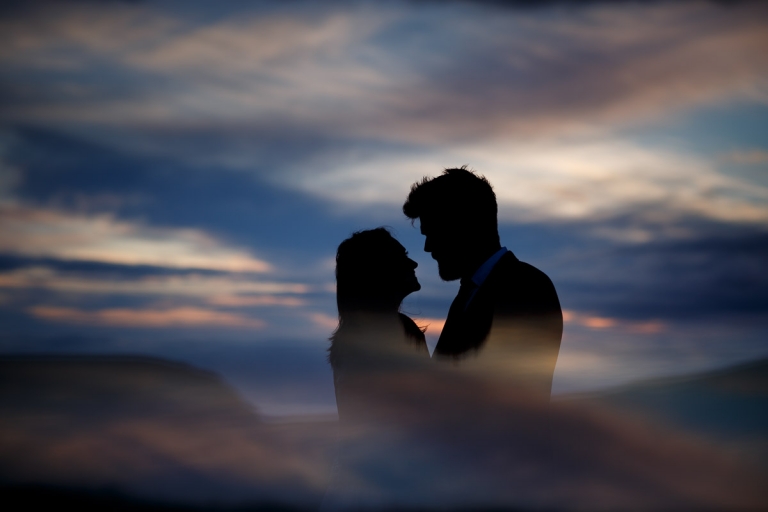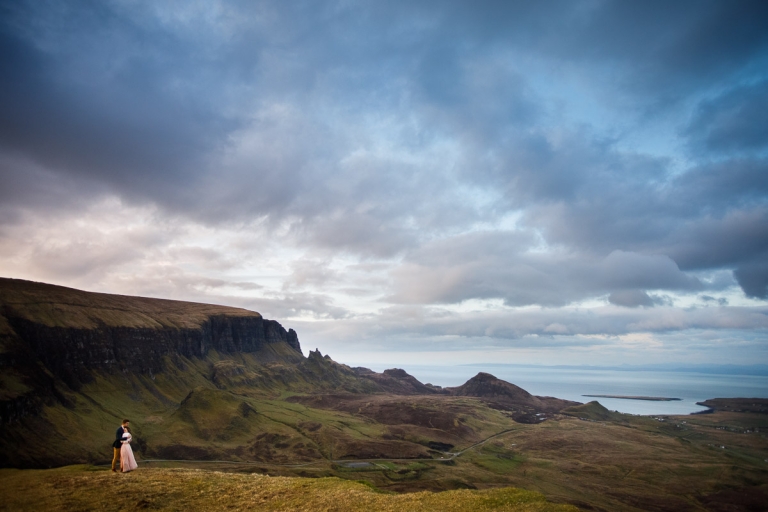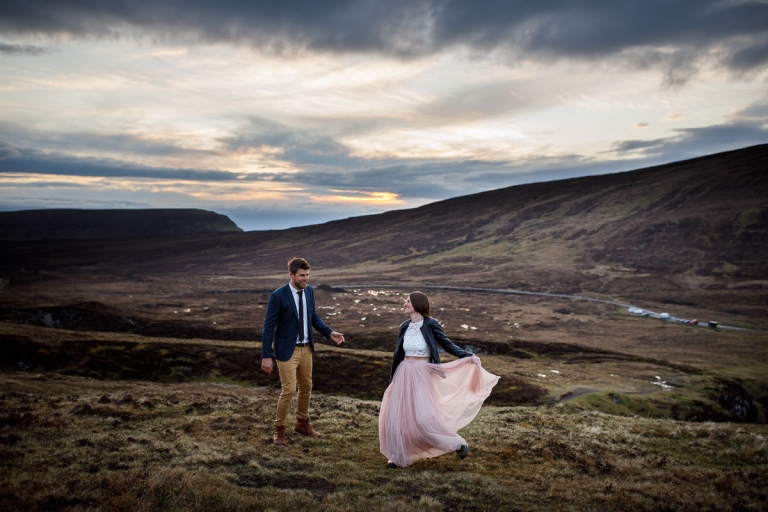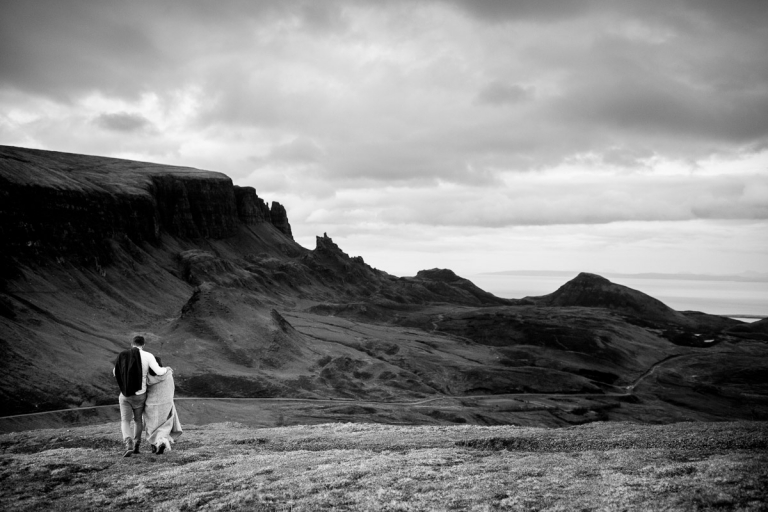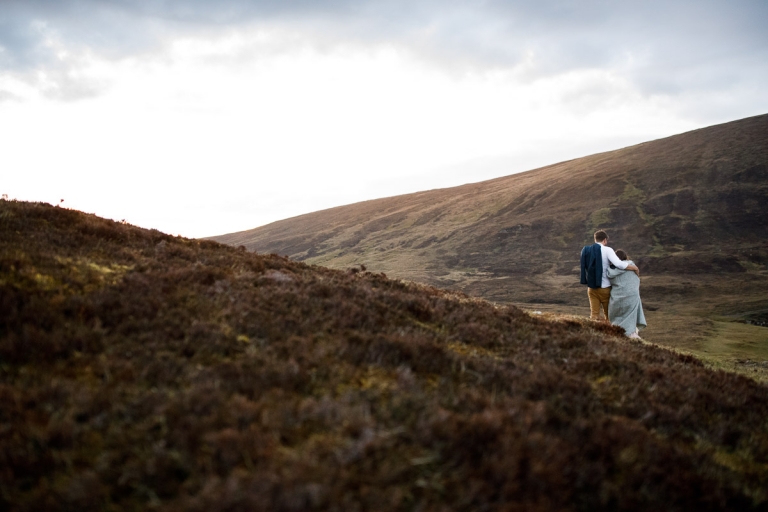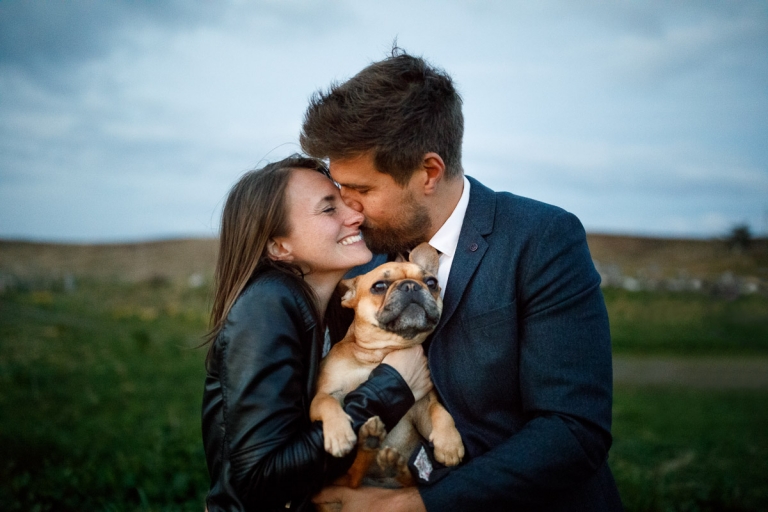 Isle of Skye Elopement – Two special people reconfirm their commitment to each other during this vow renewal performed by MAD ceremonies. Highlights include getting ready with their French Bulldog. Walking up seperately to have a first look where the groom plays guitar and sings to the bride as a surprise (and she joins in) A deeply intimate ceremony bespoke crafted by MAD ceremonies including personal vows and a handfasting. Then concluding with stunning portraits taken in the amazing golden sunlight and sunset. They also appear in my highlights of 2018 which can be seen here.