All images in this post were taken at our wedding by the amazing Ross Harvey, our wedding photographer, and used with his kind permission, because in that photo, it's me!! :)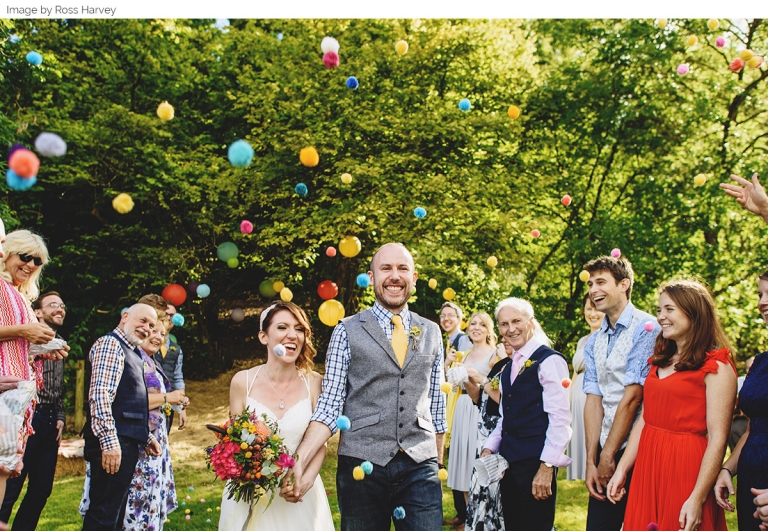 It was my one year wedding anniversary at the weekend, wow that year went fast! Just before and just after our wedding last August I wrote about many aspects of our wedding but until now haven't shared any. I thought this might be a good place to start, why I chose to have a Humanist ceremony. I would love to expose more people to the concept of a Humanist ceremony as it was the most wonderful experience. We put a lot of time, thought and effort into our ceremony, it is after all the whole reason for having a wedding (well this and getting to celebrate it :) ) and we wanted something that truly reflected us as people. I've often been asked what exactly is a Humanist ceremony as well as what we actually did so will share all the details, but if you have any questions feel free to message me or comment at the bottom.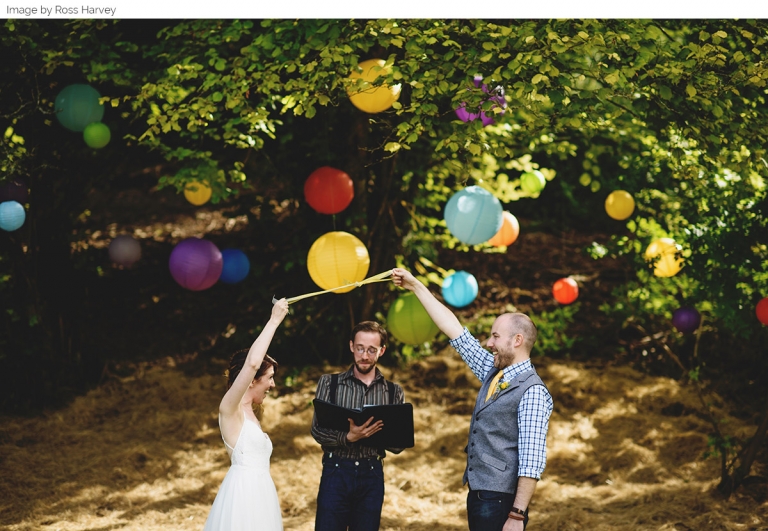 So, why a Humanist Ceremony?
The great thing about being a wedding photographer is I have witnessed many more wedding ceremonies than your average person so know more about what options exist and what was 'right' for us. Ever since I photographed my first Humanist wedding about 6/7 years ago I knew this was the right option for me. I'm not religious and neither is Martin, so that ruled that out. The next logical step would be to think about having a civil ceremony but they have some rules and restrictions and we wanted a bit more freedom. Also with a civil ceremony you don't get to choose who conducts the ceremony and I really wanted to know and like the person marrying us.
A Humanist wedding gives you complete freedom to get married anywhere you want and to do anything you want. Having photographed Humanists ceremonies I knew firsthand that they are much more focused on telling the story of the couple which I loved. It's a celebration of two people coming together and choosing to make a life long commitment to each other which can be expressed in any way you want. A Humanist ceremony is not yet legal in England which meant we would have to have our legal ceremony either earlier that day or on a different day. We decided we'd just do it a few days before, this wasn't a big deal to us. We had a tiny room in the registry office with just a couple of friends to witness where we said the bare minimum we could (option 3b :) ) and didn't exchange rings, saving this for the humanist ceremony. Our families at first found the idea of this strange, but we chose to not have them there for this part as to us this wasn't our real ceremony, the ceremony celebrating us coming together, to us this was just the legal formality. Once they experienced our actual ceremony though they completely 'got it'.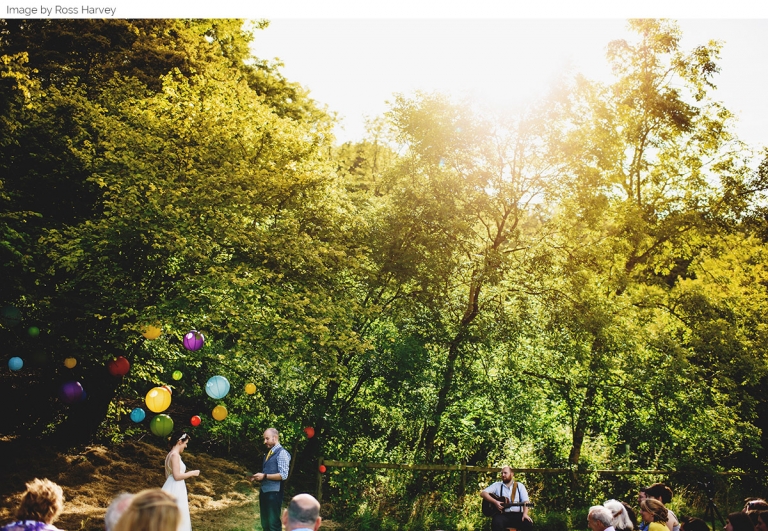 What first?
The first and main thing to know about a Humanist ceremony is that it can be ANYTHING you want! This complete freedom can be daunting though so I highly encourage finding a Humanist Celebrant who can guide you through the process and help you craft a deeply personal ceremony. We found the wonderful Maxine Beech. When searching we couldn't find anyone that we liked who was available on our day (we planned in a relatively short ish space of time). But Maxine suggested that if we had someone who could perform the ceremony for us that she could write it and help us through the planning process. Her expertise and guidance were invaluable! There is no way in hell we would have ended up with anything anywhere near as perfect without her. Our friend Graham actually performed the ceremony. We felt so fortunate for it all to turn out the way it did. Graham is a very good friend to us both and he has a background in theatre and so wasn't scared of being up there performing such an important task. I wouldn't necessarily advise everyone to do this though, we were very lucky we had Graham, plus being a wedding photographer I have a lot of ceremony experience that your average person doesn't so I strongly feel having a trained celebrant is the best thing to do in most cases. For us, choosing this option was the best decision ever!!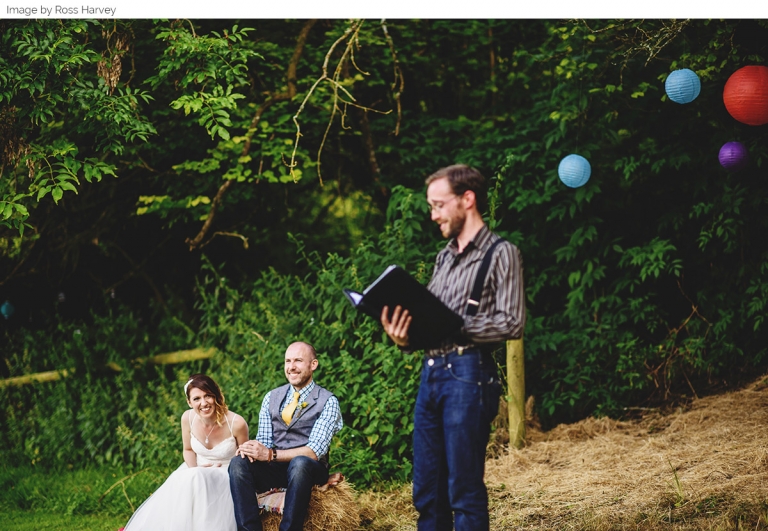 The process, deciding the content, so many fun decisions!!
Maxine and I instantly started discussing the many many things we could do in the ceremony. I had some ideas of my own based on things I had liked from ceremonies I'd photographed and Maxine gave loads of ideas based on the kind of feel we were going for. The first thing though was the overall structure and content for the ceremony. Martin and I met up with Maxine and we chatted through lots of things from what Humanism meant to us, to how we met, to our engagement story. We just chatted a lot but worried we weren't actually giving any information of any substance over. We should not have worried as shortly after Maxine delivered the first script and it was practically perfect from the very start, I cried, we both cried! There were just a few tweaks to make and we were pretty much there. It was so easy!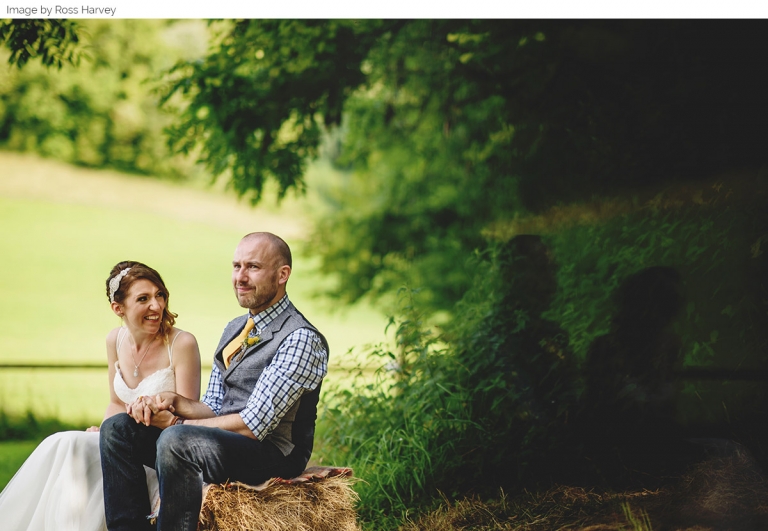 We had many other elements to the ceremony to personalise it further though. We both liked the idea of not knowing all the content before the ceremony so that some of it was a surprise. So Martin and I both independently told Maxine some things about each other, little anecdotes, and how we felt about each other. These were not added into the script until the very end when it was given to Graham, so there were many times when we first heard parts of the ceremony as they were read out. This was amazing as we had both said some very personal things that would have been difficult for us to have said ourselves in front of our families and friends. Or at least I would have found it difficult, Martin finds it much easier to express himself in that way :) I'm naturally a very open person but the one thing I find very difficult is telling those that I love how I feel about them, so Martin was pretty surprised and overwhelmed that I'd chosen to tell Maxine such heartfelt things, as you can tell from his expression in the above photo :D Having the entire ceremony script written bespoke for us meant that we could go to that extra level of personal without the pressure of having the nerve to say it in the moment.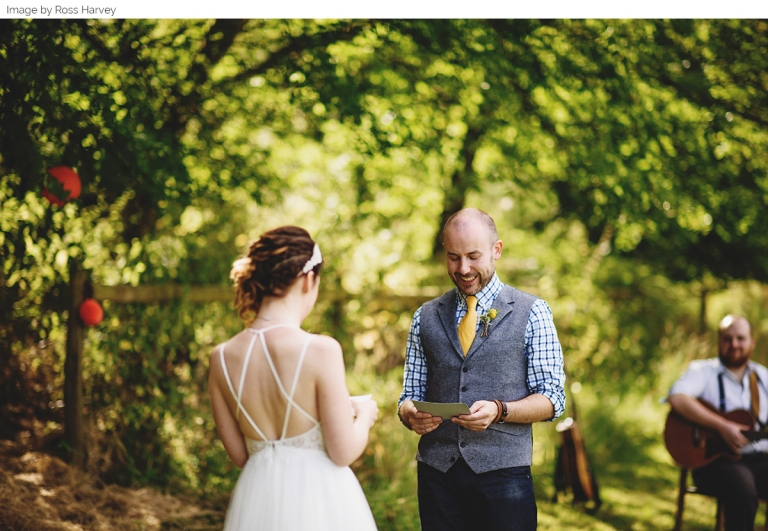 We also wrote our own vows. We preferred the idea of having vows which applied to us and the way we hope to live our lives together, but we didn't just start from scratch. We mostly searched for things that other people had used and picked out anything that felt relevant to us as a base point and then altered and tweaked until they were right. We said five each and took turns to read them out. The first three were serious ones about our aspirations for our relationship and lives together. The fourth was lighthearted and for the fifth we repeated the same one back to each other, the ultimate goal, 'we promise to love and be faithful to you my bestest friend'. (If you're interested, my lighthearted one, which I must admit is my biggest daily struggle to keep, was that I promised not to murder Martin in his sleep when he made that weird clicking sound, I regret this promise!) We approached the words used for our ring exchange in a similar way. I found a few different things that I liked and so did Martin and we pic 'n' mixed.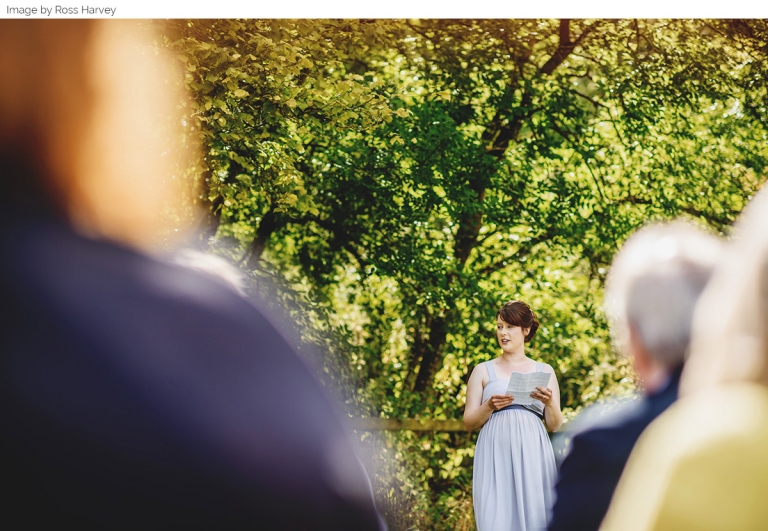 Another secret to us during the ceremony was a reading. Readings are a great way to personalise any type of ceremony. Sometimes if I stop and think about it they are a weird concept, someone reading a random poem or extract in the middle of a ceremony, but they can be really useful. It can help set a tone, either serious or light hearted for example. It can also help incorporate important people in the ceremony. But mostly I think it helps to break up the ceremony and give you a chance to sit and reflect on what is happening, it can pass by so quickly. For ours I asked my good friend Jess to write one for us (and to deliver it) She has a background in creative writing so we felt confident. She was given complete free reign, she could do and say literally anything and we didn't want to hear it until the ceremony. Unfortunately she was ill and could not come to the wedding and deliver it herself so my maid of honour Addie stepped up. It was AMAZING! It was a poem that was about a friendship becoming a relationship and used lots of clever photographic references throughout, which sounds like it could be cheesy but it was far from it. We both cried a lot during this, mid way through we turned towards each other and both said "S#@$! It's really good!!!" lol. It far exceeded our expectations and now we have an awesome poem that is all ours and we feel pretty smug about that. (There's a short snippet from the reading on my home page).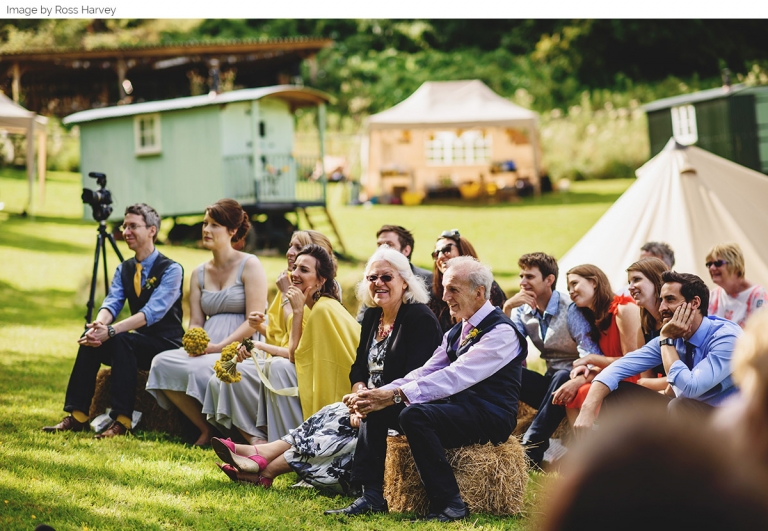 Other activities/ceremonies that can be incorporated
We decided to have two little ceremonies within our ceremony to personalise it further. The first was just a little one, a ring warming ceremony. Maxine had loads of ideas for little things we could incorporate which ranged in size and extravagance. We chose this one because we wanted a way for everyone to feel included, but we didn't want to make a big deal out of it. So at the beginning of the ceremony the rings started at the front and were passed from person to person until they had been all the way around. Each person was supposed to hold the rings and give us a little wish. We carried on with the ceremony while this was taking place. I had worried that this could seem a little cheesy or pointless but people after said it felt really nice to see the rings and to feel a part of it which is exactly what we wanted.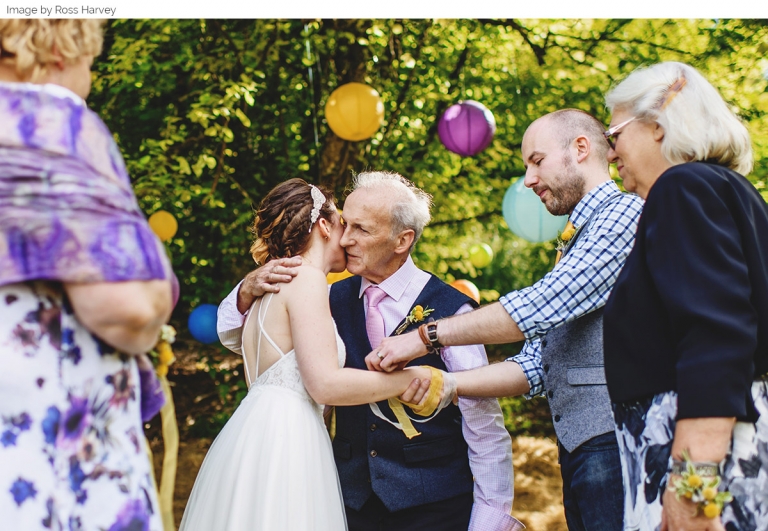 The second thing we did was a hand fasting ceremony, something I had never witnessed myself but had heard about. We did it after the vows and the ring exchange, it was the final part of the ceremony. We decided it was a great way to include our parents and we wanted it to be slightly more private to everyone, but something that was still visual for all to see. So we had our guitarist from our band, Glen, play a Mumford and Sons song we love called 'Not with Haste'. It gave us an opportunity to introduce a bit of music into the ceremony in a way that wasn't just a weird musical interlude and it also meant that what was said from our parents to us was private. Our parents came forward and they each wrapped a ribbon around our hands which were joined at the wrist and each said whatever they wanted to, either offer advice or just well wishing, whatever they felt they wanted to say. We had not practiced this so it was done very slowly with me guiding them through how the ribbon was placed. When they had finished they sat down for the rest of the song and we just listened, it was magical! When the music was finished Graham read out three promises to which we responded with 'we will' and we were bound. We were then pronounced husband and wife and we pulled our hands apart (while holding onto the end of the ribbon) and it tied into a knot! You could tell that no one really knew what was going on with the ribbons so there was a big loud "Oooooh" when the knot was tied which was fun.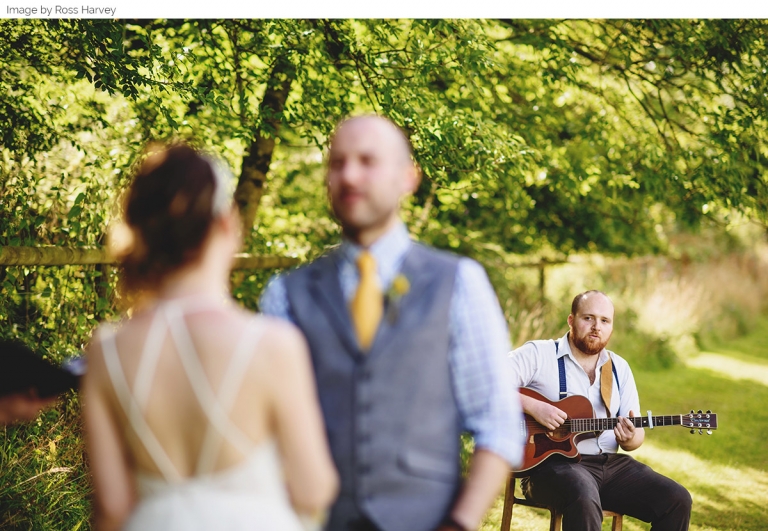 Music!!
What I have loved about Humanist weddings that I have photographed is the music that my couples incorporated into the day. One wedding I did, the couple had very musical friends and family, their brother played a song and they had a choir perform and got everyone singing. It created an amazing atmosphere. Martin and I really wanted to include as much music as possible in the ceremony, yet didn't want to just stop everything to listen to a song but we managed to get three songs in. The guitarist/singer from our band (Glen from The Nameless Three who we LOVE!!) played all three songs, one was from their catalogue and the other he had learned especially for us. The first song was Ho, Hey by The Lumineers. Martin and I decided to both lead everyone over to our ceremony together (we had spent all morning together getting ready, plus we had a drinks reception so had seen each other and all our guests before the ceremony) This song was perfect as the first 'HO, HEY' got everyone's attention and we led them over (Martin said he felt a little silly but I loved it!!)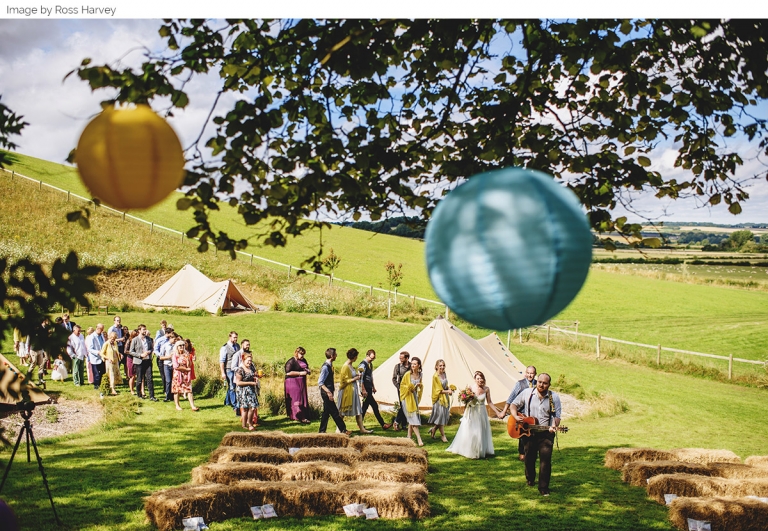 The next song as mentioned above was played during our handfasting, Glen learned the Mumford and Sons song and it was amazing to hear the words sung so wonderfully, it was a lovely moment and I felt very content and present. The third and final song started up the second we were pronounced husband and wife, it was (don't laugh) a song by Hanson called Thinking of You :D A song we had both (not that secretly) loved when we were younger, it sounded amazing acoustic! We walked back up the aisle to this and the confetti which was hundreds of little pom-poms I had made. They looked so fantastic thrown up into the air and one of my favourite views of the day was looking back and seeing the sea of pom poms left on the ground and on the train of my dress.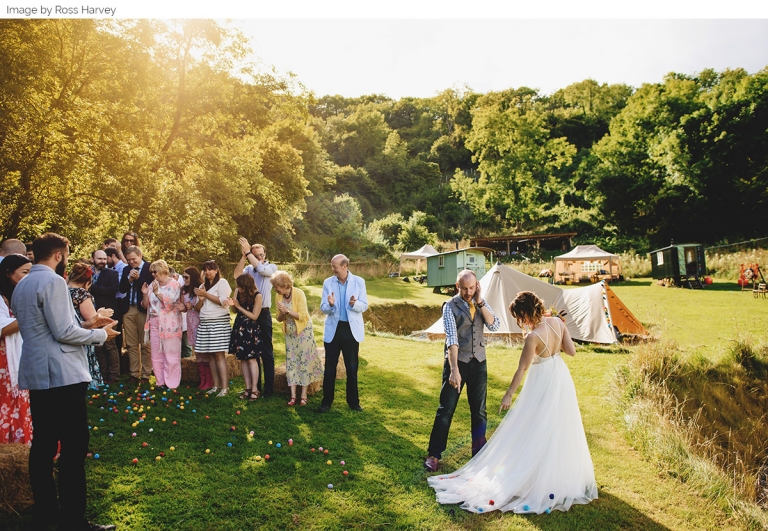 Location
Another great thing about choosing to do a Humanist Ceremony meant that the options for the location completely opened up. As it's not a legal ceremony we no longer needed a licenced venue. Yes we still had to do the legal part which we did a few days earlier as I said above, but we could do it ANYWHERE!! We really wanted to get married outside, you can do this with a civil ceremony (and some religious ceremonies) but you need to still be under a licenced structure. We were completely out in the open and I can't tell you how wonderful that felt. It was so important to us to feel completely free and open in our space, but also to be near trees, anyone that knows me knows I love trees and I've passed this onto Martin :) It's hard to describe how special the space felt, and the weather helped don't get me wrong, but to have complete control over the choice of where and when the ceremony happened was so important to us. We had decided the sort of time it would happen but we ultimately just said let's do it, gave Glen the nod to start playing his guitar and we got married, there were no strict timings we had to stick to and no strict people telling us when and how to do it.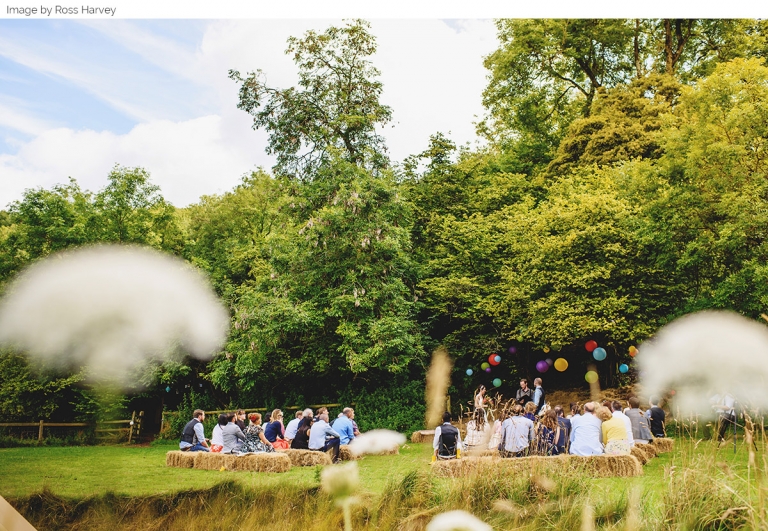 Taking away the fear
Before starting this whole process the idea of a wedding ceremony really scared me. I don't like public speaking (which is how I saw it – the reality is different) and the idea of being the focus of attention for so long was terrifying. So having complete control on the structure of both the day and the ceremony meant I could organise it all to be as unscary as possible. Things like having a friendly celebrant, being out in the open, walking to the ceremony together, having a drink (or two) with everyone before the ceremony all played a part in easing my fears. But ultimately having a ceremony crafted to completely tell our story in a way that I felt comfortable with was key in allowing me to be fully present and enjoy the ceremony and the Humanist ceremony allowed us to do this. And enjoy it I did, it was such an amazing experience that I would like to re live over and over which beforehand I never thought I'd say. Getting to share this with our family and friends there to support us was so special, it's funny to me now to how much this scared me and with hindsight I wish present day Caroline could tell past Caroline to chill the F out!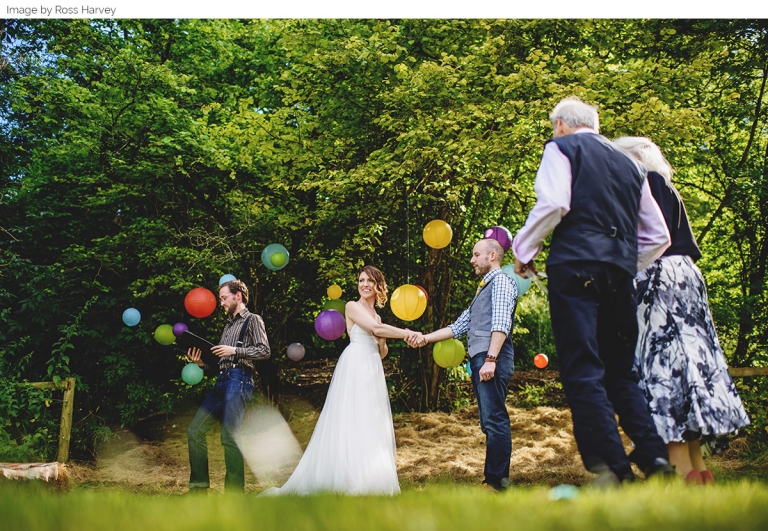 The Photography
So I can't write a post about weddings and not mention the photography :) Being a wedding photographer I'd obviously given thought to how the ceremony would look and how easy it would be to photograph (ie. can he move around us? Can he do this in a way that won't be too distracting? etc). We told our photographer, Ross, to do whatever he wanted, and meant it. Another great thing about having a humanist ceremony is this extra level of freedom you get with anything and everything, including photography. Whenever I've shot a humanist ceremony the celebrant has always been keen to help me and the couple get the best photos we can or said literally 'do what you want'. With both religious and civil ceremonies there are often restrictions and they can be strict, sometimes even banning it completely. I think partly because Martin and I were very laid back about the photography and partly because we were so focused on our ceremony we didn't notice Ross at all during the ceremony, yet when we watch it back (as we set a camera up to record it) we can see that he was EVERYWHERE, being outside really helped with this.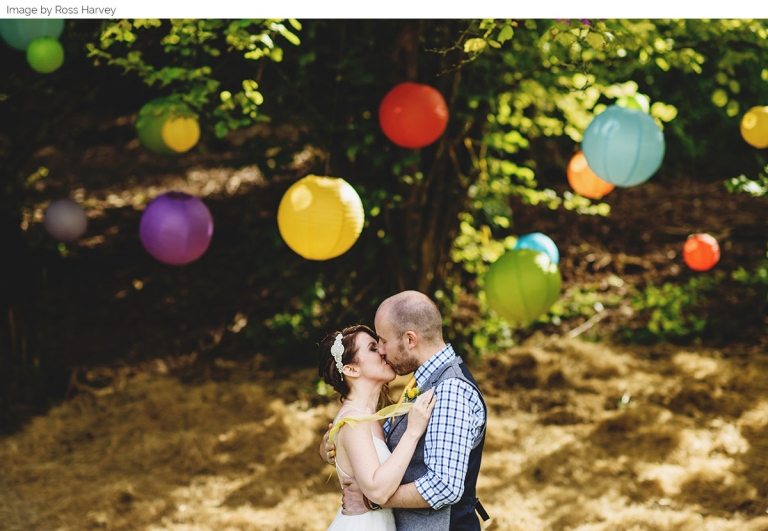 I really hope this post helps people that don't know where to start with their wedding or their ceremony. As I said above, it can be very daunting to begin with, but the guidance is out there for you once you know the path you want to take. I see so many wonderful people getting married in many different ways. I was initially a little anxious to share details about my wedding as I worried that it would come across that I feel that what we did was somehow better or the best way to do it, when in reality it's far from it. I want to encourage people to find the best and right thing for them. This is just one type of ceremony but it's one that I've been surprised that people often know little about so I hope I've shed some light and given some people a few ideas. Please do feel free to ask any questions :)
Bristol Humanist Ceremony Photographer – Bristol Humanist :)